DB-150 - PS-250 multiple bobbin perforation machines up to 6 bobbins/cut
- Web width 100 - 400 m by web speeds up to 400 m/min
- slim-roll-by-roll production up to 24,300 meters
- Web material CTP, tipping, cigarette, plug-wrap, fine, packaging, filter or other paper
- Real time OPSS-1 scanner system with porosity feedback control system
- Porosity ranges 80 C.U. - 1,000 C.U.
- perforation zones from 2 - 6 mm, hole density up to 250 h/cm2
- hole sequences up to 2,500,000 per Second
- Option: slitting and/or flying splice at rewind stand
- annual production output: 50,000 - 130,000 bobbins per year, depends of machine type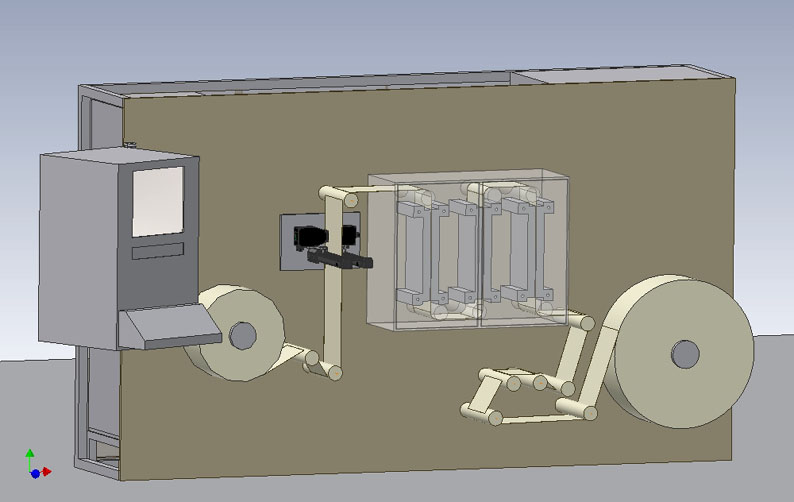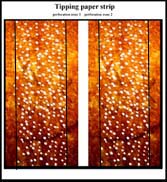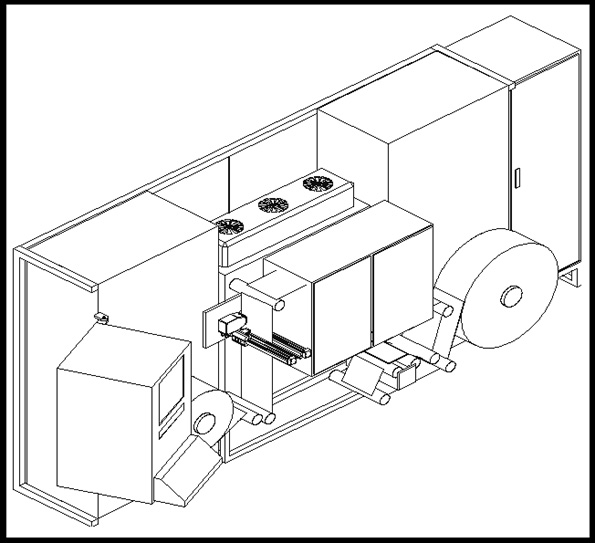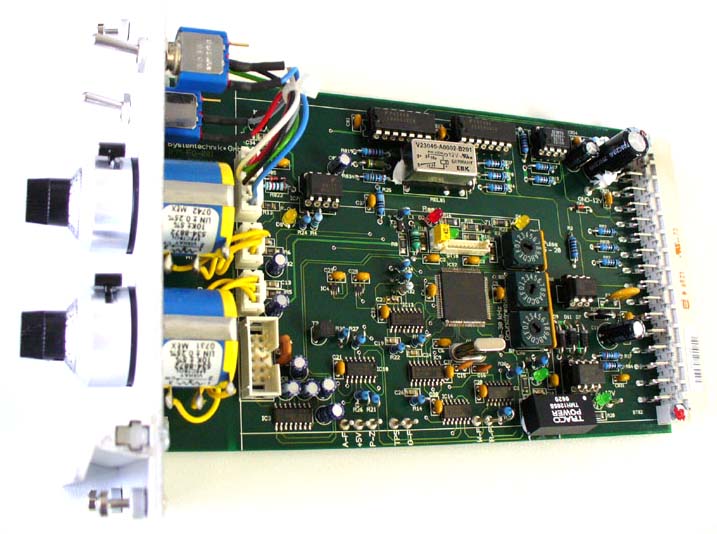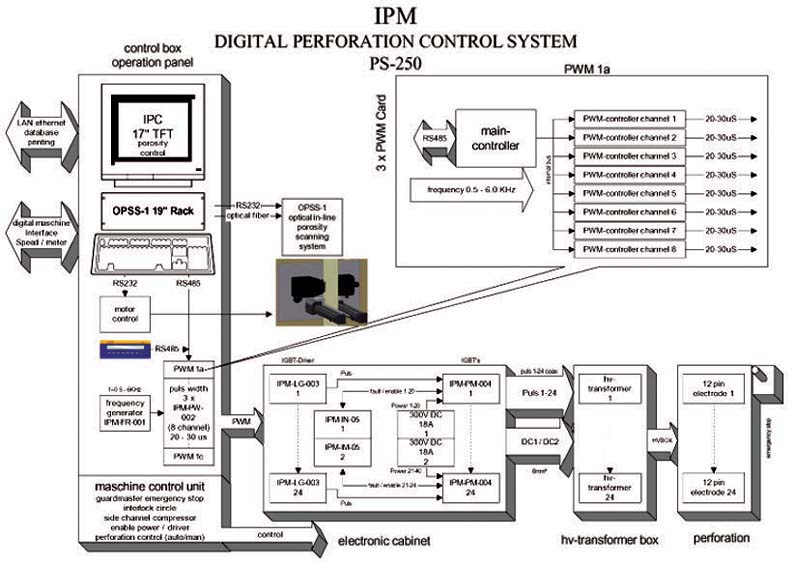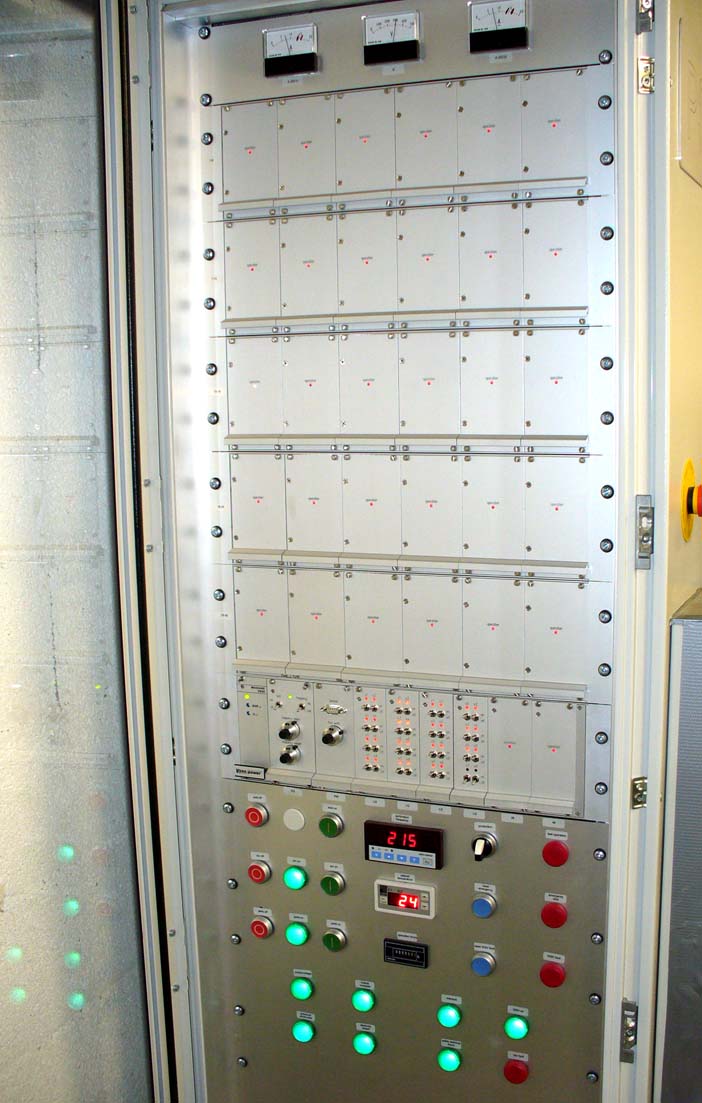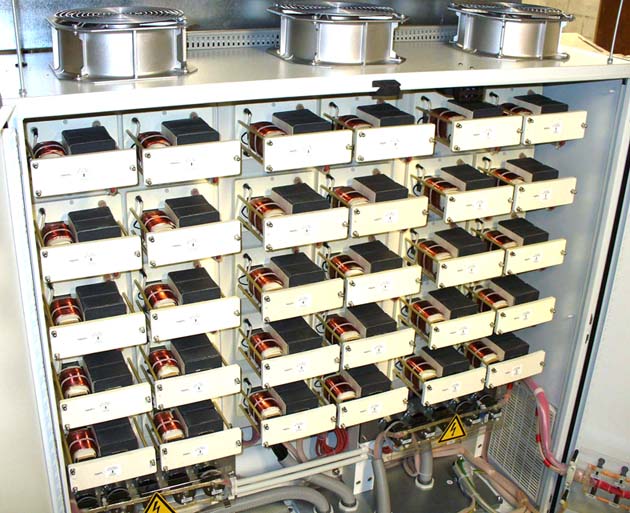 PS-250-4 multiple bobbin perforation maschine - download PS-250-4
PS-1200 wide web perforation machine - download PS-1200
OPSS-1 optical online porovision control - download OPSS-1
---
examples of micro perforation in packaging material webs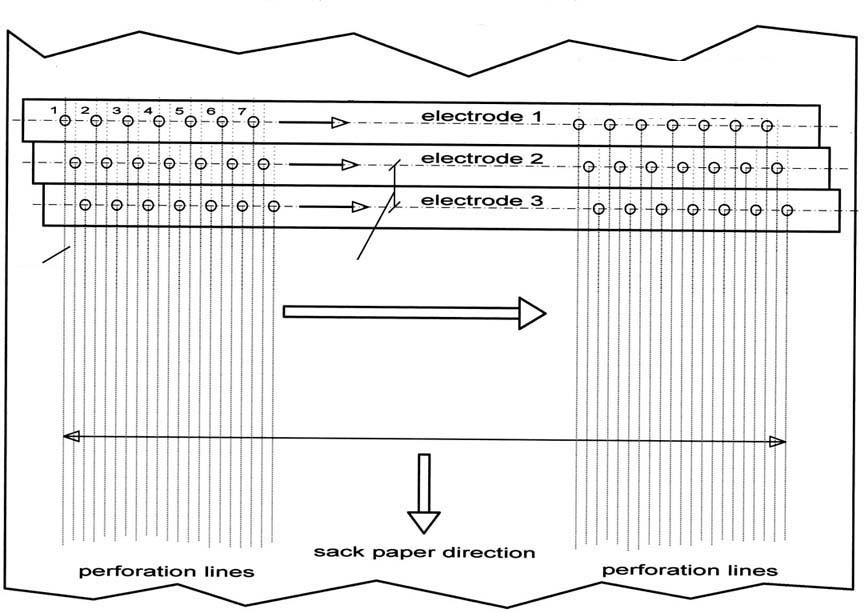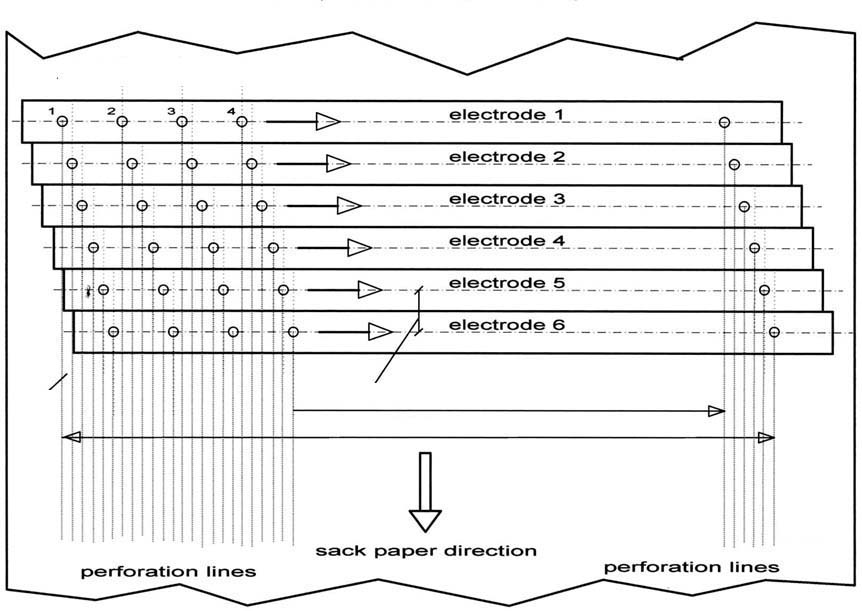 ---
Nano Micro technologies - incredible archipelagos of applications
Web material as regenerated cellulose films, filter, cigarette, tipping, roll-your-own RYO paper, transparent, coated special, bag or packing papers, bonded fabrics, spun bonded non-woven, technical textiles, fabrics, laminate with base weights from 20 g/m2 to up to 150 g/m2, up to 20 g/m2 LPDE coating films, are perforated electro statically nano, micro, or by laser (mechanical hot or micro needle) with micro or macro holes for wide range of application purposes.
Electrostatic NANO MICRO PERFORATION, based at micro discharging and sparking, Bluemlein and Plasma Tunnel effects with gas atomic ionization in Nanosecond time windows.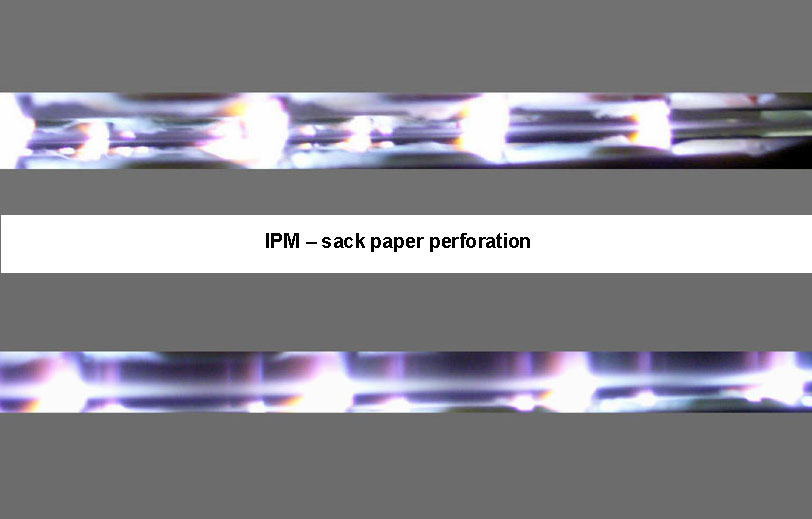 The pores are statistically irregularly distributed with size ranges from 100 nm up to 80 μm diameter and analogically, under LASER or micro macro PERFORATION, arranged in diameter sizes from 60 up 200 μm, at best non-inclined holes und rows of holes of diverse arrangement comprehension.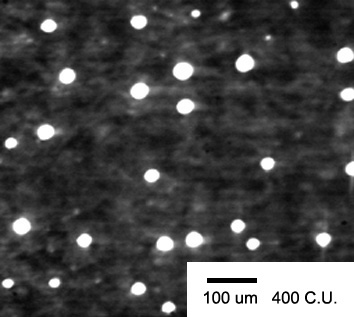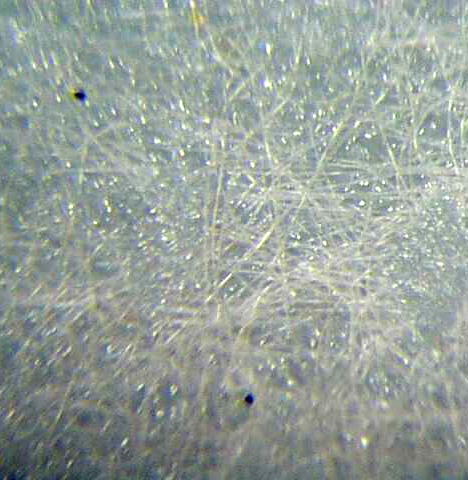 For the human eye invisible electrostatic nano or micro perforations may be arranged in areas as well as in zones with specific distances within its web. Controlled pore sizes in wide ranges from 100 nm to 80 ΅m diameters by holes sequences up to 16 million pores per second and 0.1 bis 3 mJ discharge energy for each Pore.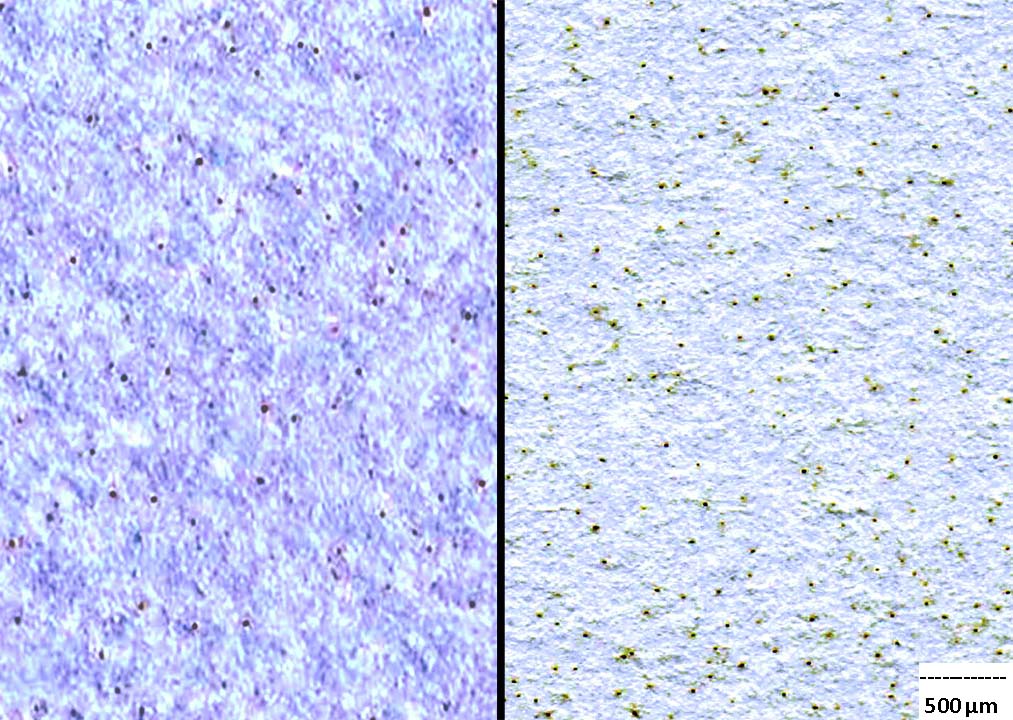 Arrangements of zones are usually carried out in width from 2 to 6 mm and pore density of 15 up to 250 pores per cm2 whereas the perforation of areas results in pore densities of up to 5 million pores per m2. ESP perforations allow porosity levels from 80 to 2500 C. U., web widths from 100 to 2000 mm at web speeds of up to 500 m/min, depending on porosity and material consistency in relation to its ability to perforate.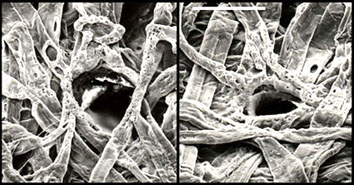 ---
Conventional laser perforation
Possible to perforate by pulsed and focused laser beams are holes sizes from 60 to 200 ΅m at density of holes of typical 10 to 30 holes per cm length, holes sequences up to 400.000 holes per second at a maximum of 32 hole rows by laser distributed over the width of the web with traditional systems or machines on the market.
Porosity levels from 100 up to 3000 C. U. by web widths up to 500 mm at web speeds of up to 600 m/min are archive able, depending on porosity and material consistency in relation to its ability to perforate.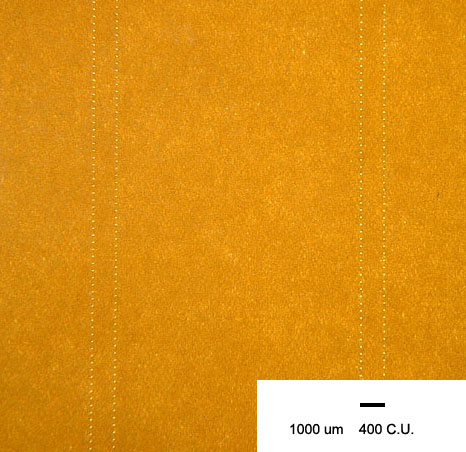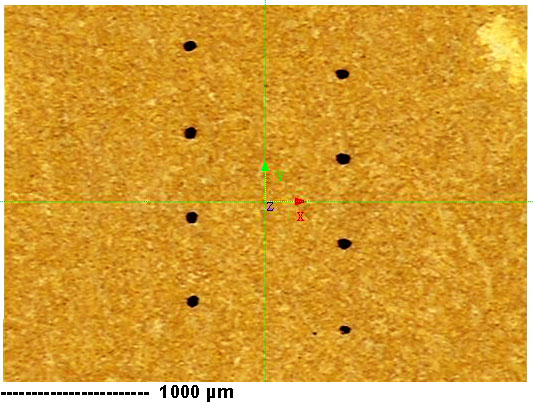 ---
IPM laser perforation processes
IPM owns development of LASER PERFORATION technology LPM-1 (patent grand DE102004001327) operates with quad laser beam inputs of 8 KW optical power input ( fast flow or SLAB laser with 10.6 μm wave length ) to an upper/lower dual beam multiplexer to generate up to 200 individual laser perforation beams/rows/lines across the web, combines automatic laser perforation head positioning, focus setting, by web speeds up to 400 m/min, web widths up to 2000 mm, up to 4,000.000 holes per second. Each laser perforation lines are archive able from 100 up to 2000 C.U.
Jumbo-roll-by-roll production, optical online porovision and simultaneous perforation line positioning control, full feed-back system for constant porosity levels are further features. Each laser perforated jumbo roll is ISO production data controlled, benefit and certificated.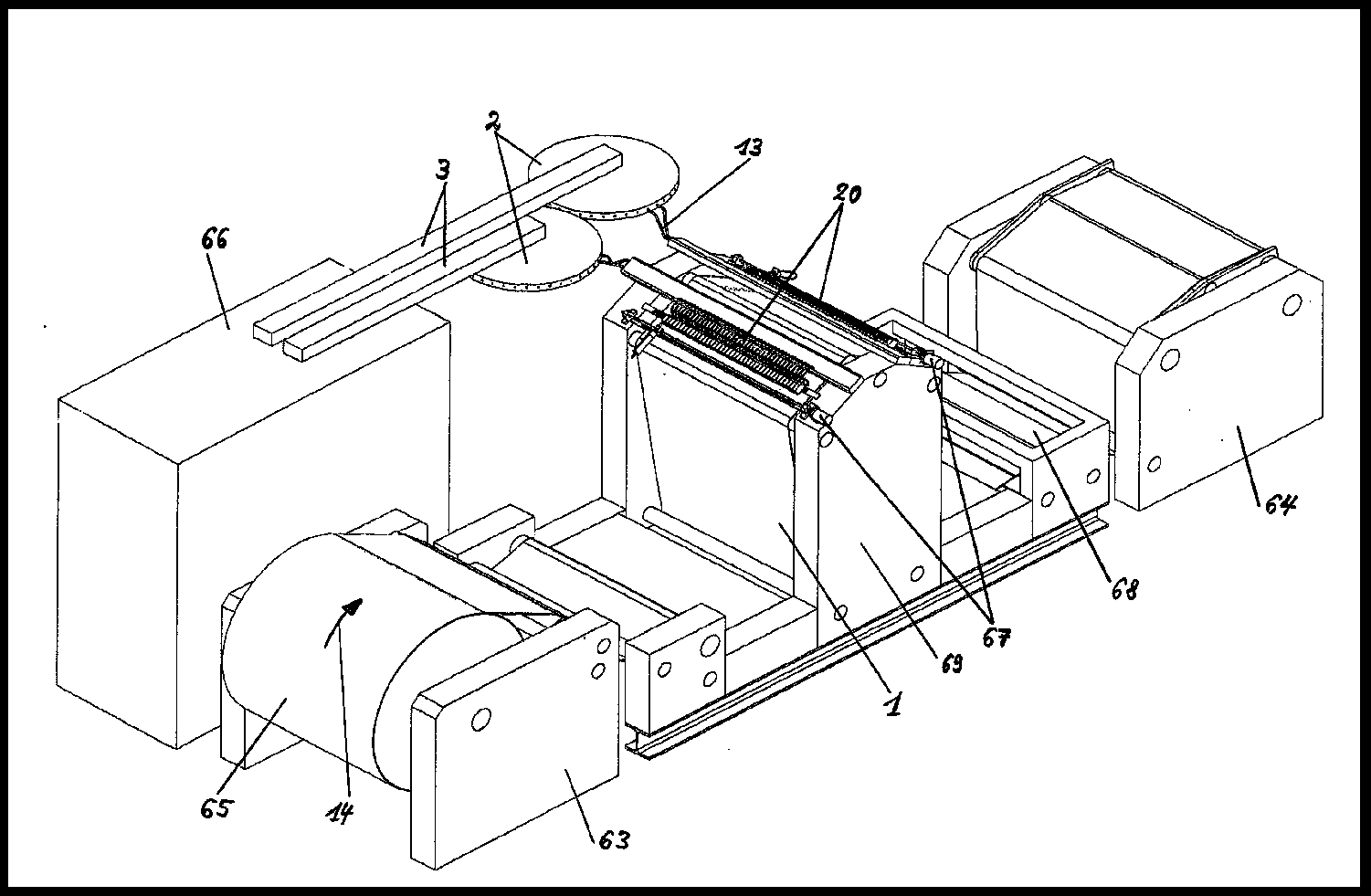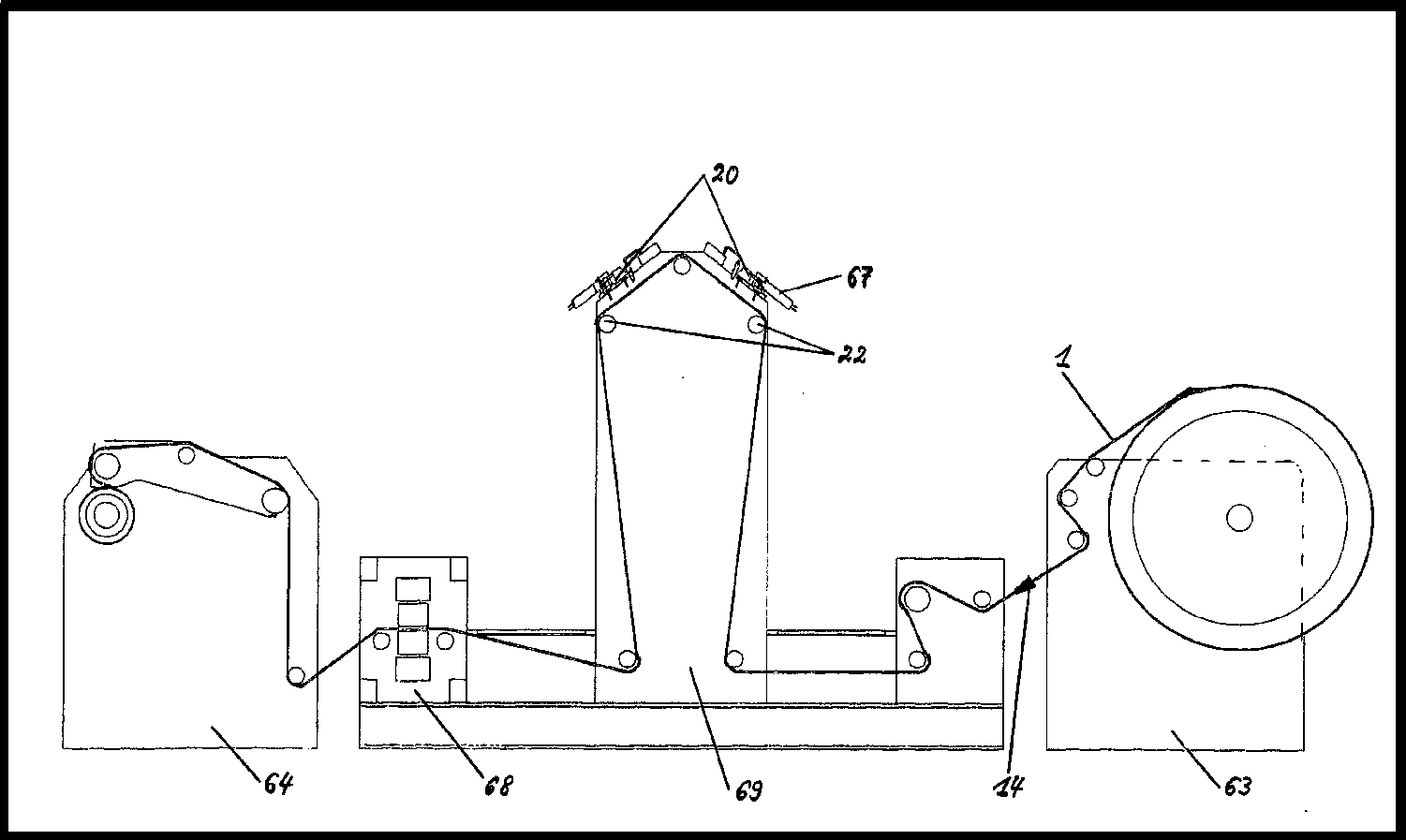 Other industry areas
The conception of high power twin laser beam multiplexers enable many possibilities in other industry application fields as cutting, cut-offs, welding, surface finishing, drilling, polishing, forming, surface treatment, roughness improvement.
Each of the 200 single perforation head can be positioned in X directions across the running web or other laser treated material sheet, substrates, blocks etc.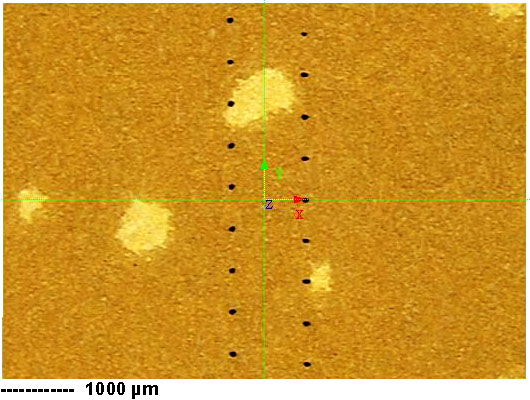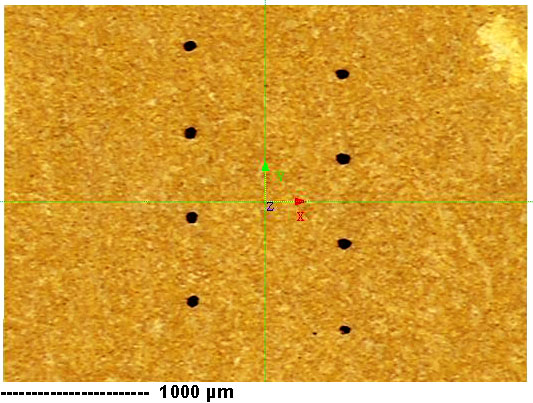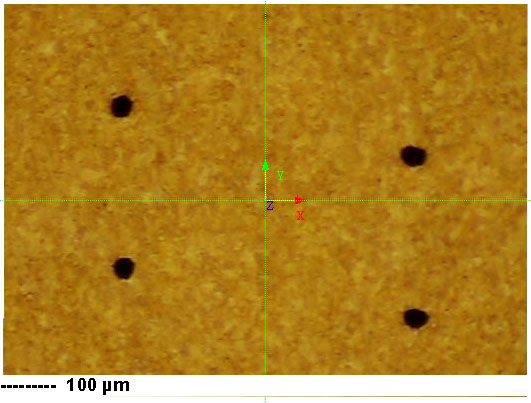 The automatic processes, equipments and devises opening completely new possibilities in industry, science, military or space laser application. Patent grant of process and device with DE102004001327.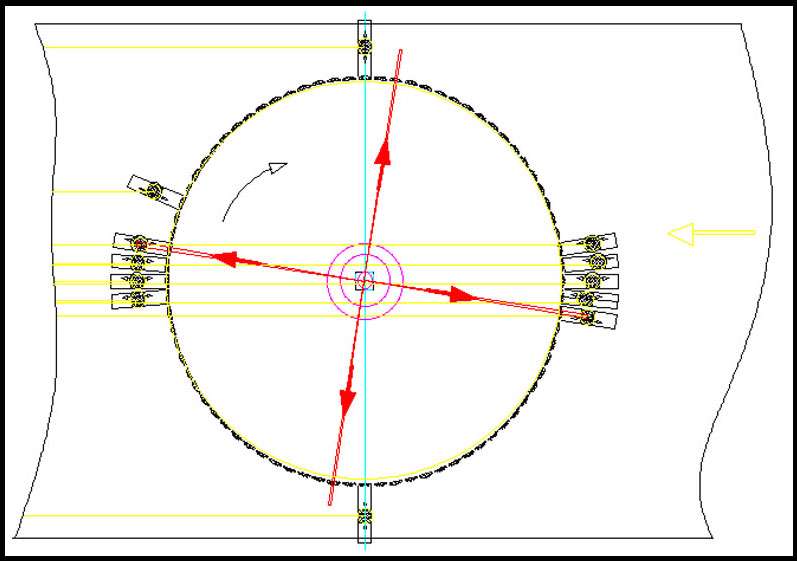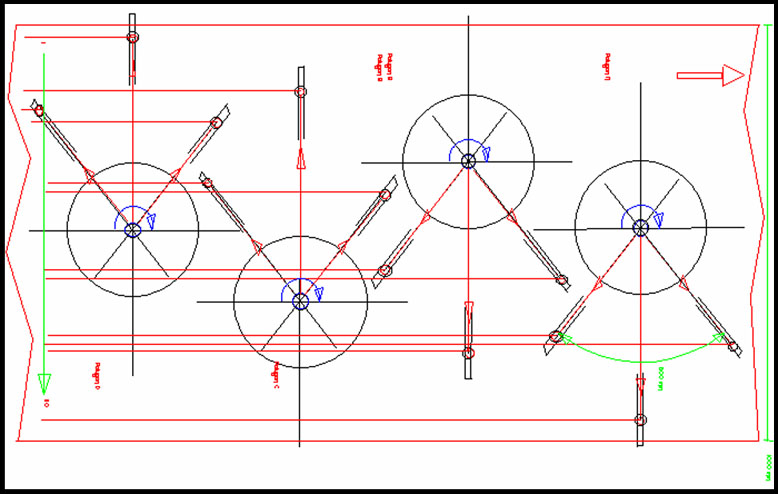 ---
Further laser features
A patent pending Micro Laser Line perforation technology MLL-1 generates sinus, waves, zigzags or other kinds of perforations cryptograms, designs as multiple or quad pairs of micro laser lines in web direction.
Hole, slot or star sizes in ranges from 60 up to 200 μm are possible. Provide for tipping, cigarette, packaging or other kind of paper, plastic film or other web material.
Special features of micro laser line perforation enables fundamental new product characteristic in scripts, e.g. for mouthpieces with tipping paper, CTP on cigarette filters, product indication with visible perforation holes, brand name, company logo, indications, anti counterfeiting designs, cryptogram, etc.
In addition for other industry, medical, science or military purposes, material and applications fields.
Patent pending for process, device and product property DE102004012081.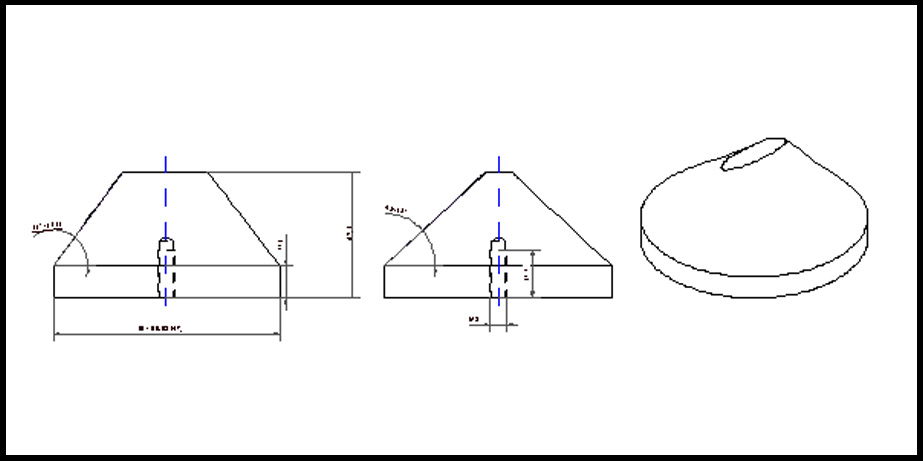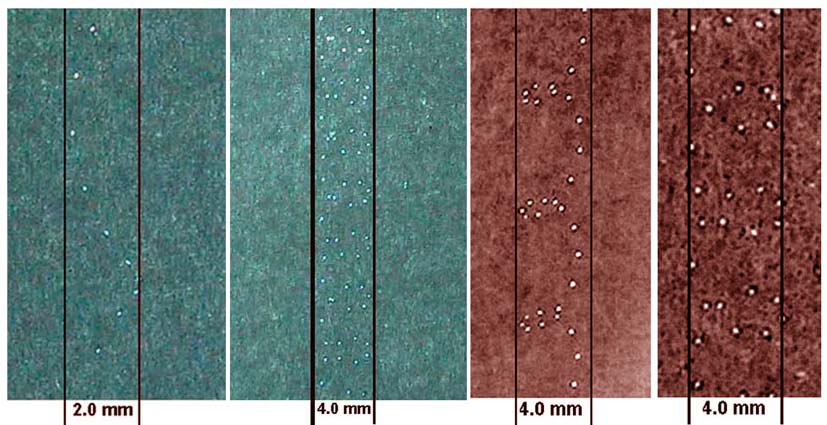 High-speed rotate octagonal beam splitter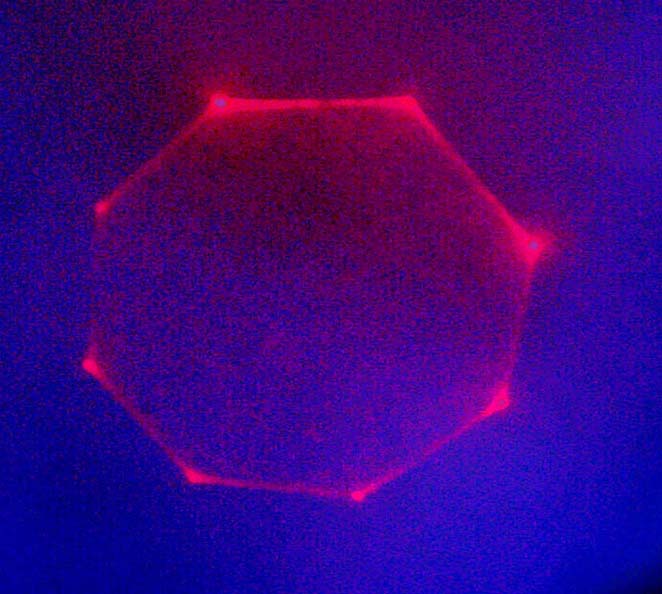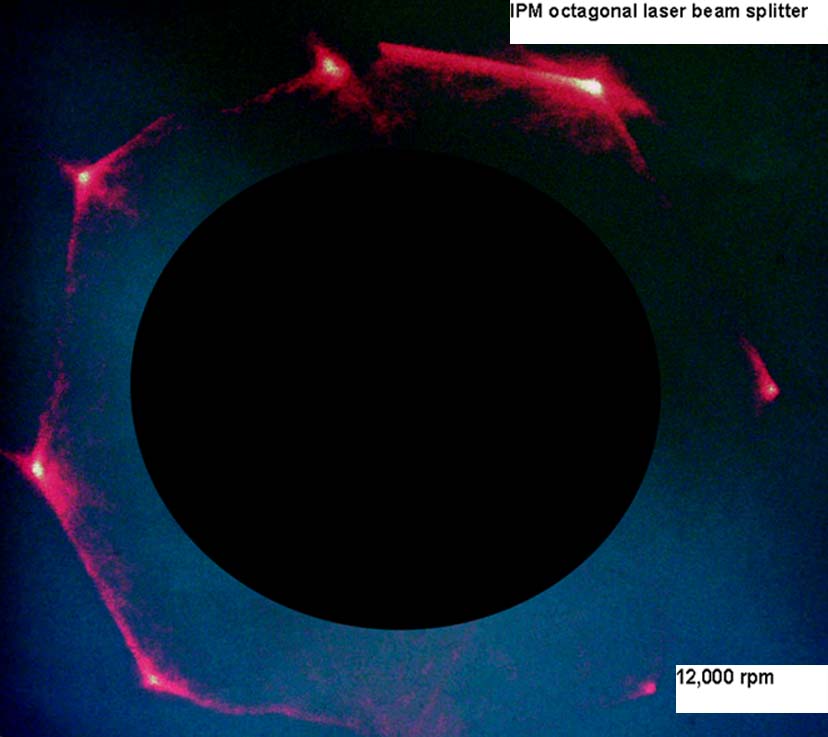 ---
Ventilation of mass products
Electrostatic perforation has been used since 30 years for ventilation of non filter, RYO or filter cigarettes to create a directed and guided air bypass or Lindstroem principle. For this purpose, cigarette paper for some non filter or RYO cigarettes and almost every kind of filter cigarettes tipping papers are perforated electro statically OFFLINE in zones from 2.0 – 6.0 mm width or in rows with ONLINE or OFFLINE by use of slow, fast flow, sealed-off or SLAB CO2 gas or diode laser in order to reduce the harmful substances such as nicotine and condensate down to allowed values. Another effect is the possibility to control the degree of ventilation of Cigarettes.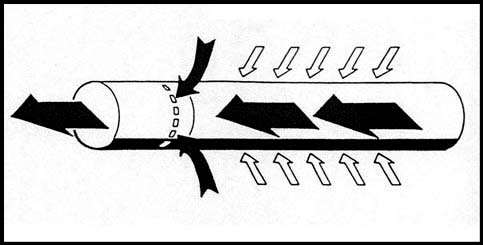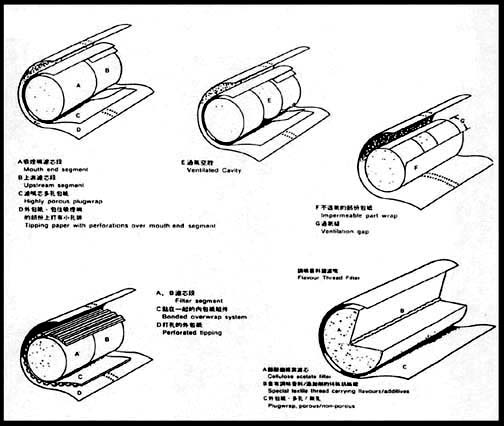 Online micro perforation – porosity profile
Many years ago IPM had developed a multiple online electrostatic micro perforation OESP-1 units at cigarette making machines which was patent applied with EP 0460369 and DE4018209.
http://www.freepatentsonline.com/EP0460369.html
The method and the device for electro-erosive perforation of cigarette paper basically operates with at least two pairs of electrodes which are ignited at the same time in such a manner that each perforation section is treated twice in order to provide a corresponding intensity of perforation, taking into consideration the duration of ignition and the web speed. In particular, the invention operates with at least four pairs of electrodes (I to IV), between which the web (10) of cigarette paper to be perforated is moved through. The cigarette paper is moved in the longitudinal direction of the cigarette to be produced later, the width corresponding to the circumference of the cigarette plus an overlap section for bonding. Perforating is carried out transversely to the direction of movement, that is to say an accurately defined zone section is produced around the circumference of the cigarette. The pairs of electrodes are arranged at a distance which corresponds to half the cigarette length (a, b, c) when four pairs of electrodes are used.
The first and the third pair of electrodes are ignited simultaneously. A distance-dependent control causes the second and fourth pair of electrodes also to be ignited simultaneously when the previously perforated sections have traveled the distance of half a cigarette length. Each section is perforated four times, the speed at which the web (10) can be moved being determined not by the spacing (half a cigarette length) of the pairs of electrodes but by the spacing of the pairs of electrodes in each case simultaneously ignited (one cigarette length). This provides for uniform, intensive and very powerful perforation and the cigarette paper treated can be continuously supplied to the cigarette machine for further processing in the longitudinal direction of the cigarette.
That electrostatic micro perforation process enables cigarette or tipping paper while cigarette making processes to reduce nicotine and condensate levels for non-filter and filter cigarettes as well. The OESP-1 devices opens fully new possibilities for cigarette or tipping paper ventilation during cigarette manufacturing by entire perforation cassettes integration into cigarette making machines as Max-S, Protos 80, Protos 90, Mark-9 etc.
Advantages during manufacturing
Small all-over-dimensions, direct mechanical integration of perforation units, easy functional interfacing and full EMI acceptance in order of EN or NEC standards archiving high production efficiencies with controllable ventilation grades on highly automated cigarette making machines. Patented, powerful, dual switching, high frequency switching electronics and multiple perforation performances of the circumference of each cigarette, allows problem less perforation on high-speed cigarette making machines up to 12.000 cpm.
Porosity ranges from 50 up up to 400 C.U.

pore densities from 25 up to 300 pores/cm2

hole size from 30 up to 80 micron

cigarette ventilation grades up to 45 % are archive able

All necessary perforation, production parameters are stored and controlled by microcomputer operation, i.e. geometrical and synchronized positions of perforation lines, zones etc., pore density, perforation zones width and distributions, perforation profile and porosity ranges for each cigarette brand.

Porosity profiles over the length of each non-filter cigarettes are possible.

Furthermore single, multiple, different or equal groups of single perforation zones around the circumference of each cigarette for non-filter, RYO even tipping paper for filter cigarettes are possible. All stored parameter sets are linked to the PLC system.

Different micro perforation designs and porosities of each cigarette brand are flexible to define and controllable during all production processes.

Air ventilation levels are exactly defined and, due to online feedback, can be kept constant by means of perforation system design and porosity distribution.

For non filter cigarettes for example, perforation can be effected over the entire length and circumference of the cigarette.
Liability and system investment
The ESP process OESP-1 has a high liability and is realizable with low investments and low running costs when compared with online macro or micro laser perforation processes. An online porosity control system OPSS-1 monitor continuously the air permeability, called optical online porovision or porosimeter, with a state-of-the-art technology to obtain a close-loop/feed-back to the perforation unit to keep ventilation grades constant.
Conclusion: Online micro perforation processes are possible to use for other mass products and application fields with full system integration in entire production lines as bag, sack, packaging manufacturing etc.
---
IPM - ONLINE LASER PERFORATION with patent grand high-speed multiplexer DE102004001327
A – laser source and IPM patent grand multiplexer with 8 optical channels
by 8 laser lines, 10.6 um, CO2, sealed off laser, M<0.9, e.g. Coherent ULR-300, 300W Synrad, PRC

by 4 laser lines, 10.6 um, CO2, sealed off laser, M<0.9, e.g. Coherent ULR-150, 200W Synrad, PRC

laser source dimensions all over approx: 1,100*200*200 mm, water cooled

output 45 grad divert mirror

IPM multiple laser beam multiplexer

centre rotate twin beam splitter and high speed motor (not shown) up to 900 rpm/sec.

diameter approx. 400 mm, high approx. 200 mm

8 optical output channels, coupled special hollow fibres, each in lengths 1,000-3,000 mm
B – bobbin unwinder and perforation heads
tipping paper from 48 up 64 mm web width

8 perforation heads, 4 on each side

each laser beam supply with special hollow fibres and auto focus devices

diameter of each focus device around 25 mm, distances in web direction around 50 mm

length of necessary perforation section approx. 200 mm by 8 laser lines

necessary width of perforation section - tipping paper width + 40 mm on both sides
C – tipping paper strips with 8 laser perforation lines
up to 10,000 cpm or 135 m/min tipping paper web speed

4 laser perforation lines on each side

total round or oval hole sizes between 60-180 ΅m diameter

up to 8 holes/cm, one hole with e.g. 14 C.U.

8 h/cm*14 C.U./h*4*2cm (Coresta) = in total around 900 C.U.

ventilation grad 10-80% with twin or quad rows

by 8h/cm*8 holes/rows*135 m/min = 14,440 holes/s in total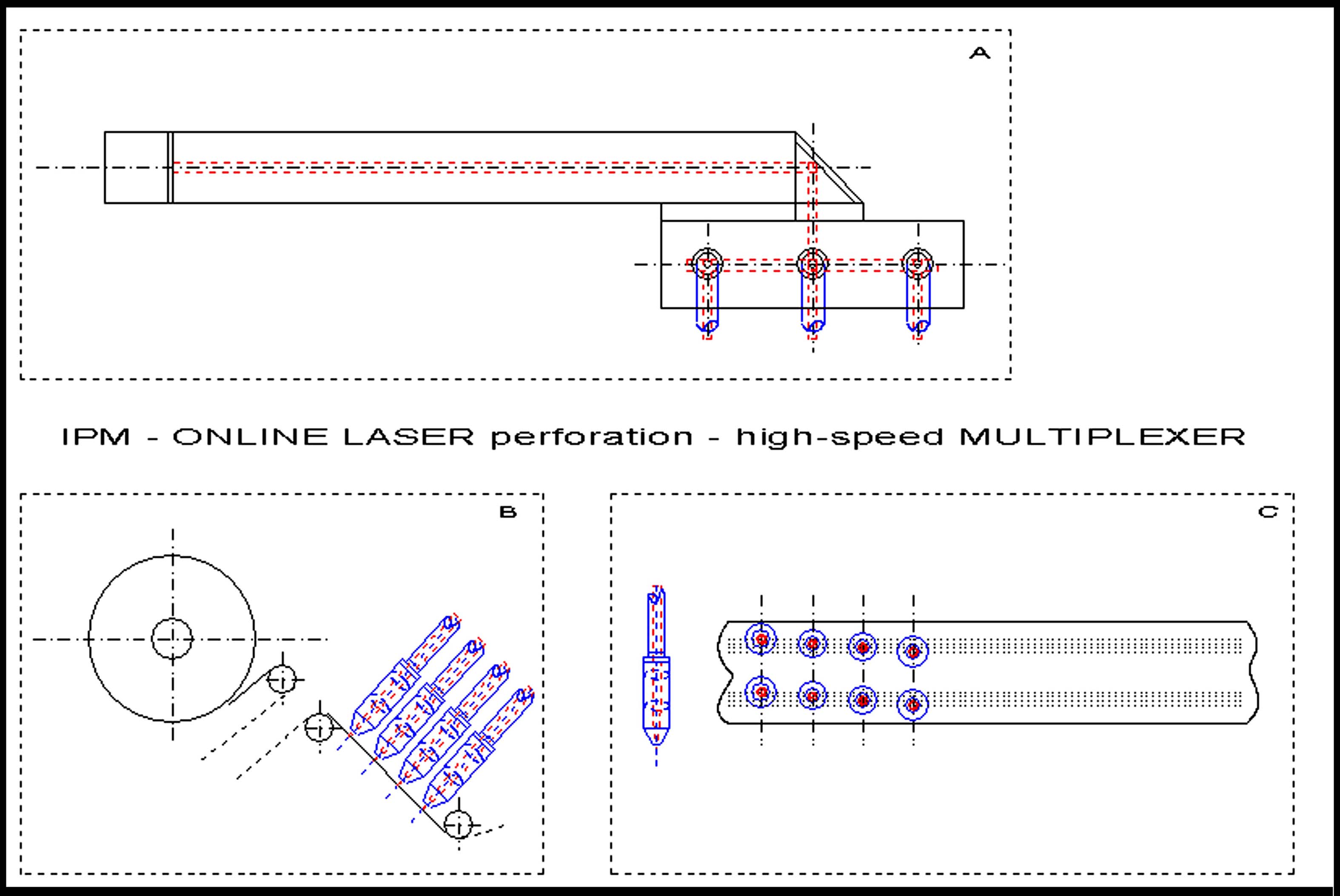 further information on request
---
Product properties with electrostatic perforation
One of the foremost postulation which can be applied to many application purposes and products containing bonded fabrics, bag or packaging papers, non-woven, etc. with gas or steam permeability but water impermeability.
Further substrates or micro engineered membranes for micro filtration, fractionation, nanopattering, nanomembranes, nanophotonics, microbiology, catalysis, gas, alcohol, liquid or blood separation, battery separator foils or others are possible with ELECTROSTATIC NANO MICRO PERFORATION TECHNOLOGY, depends of material structures and perforability.
Which means pore sizes from 10 nm up to 10 ΅m diameter by up to 5 million pores per m2. This is due to the water's greater surface tension as dyn level and hydrophobic property or wetability through the relatively small sizes of nano or micro pores. These and other advantages of the pores necessarily demand the application of the ESP perforation method because alternative perforation or processes are physically NOT feasible, too expensive or simply uneconomical and would not allow successful product applications.
To archive new nano or micro perforation demands IPM developed power electronics perforation units which working as upward converters with IGBT, BJT, MOSFETS, FRETFET or HVFET for ultra short power pulses from 10 ns up to 20 ΅s, high current peaks up to 300 Amps, base frequencies up to 200 KHz on plug-in ferrite transformers to generate 50 Kilovolt to each sparking electrode. Patent grant DE10328937 for power electronics.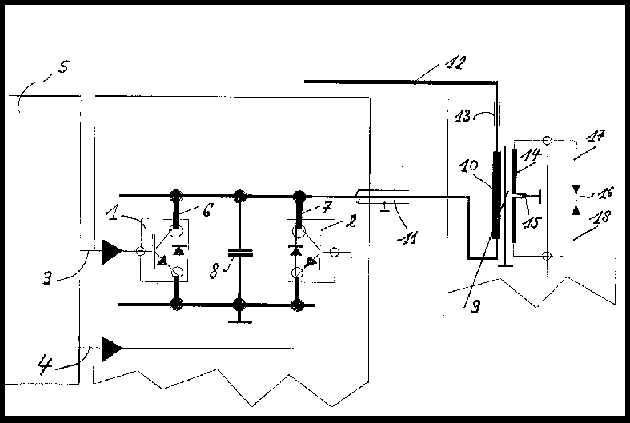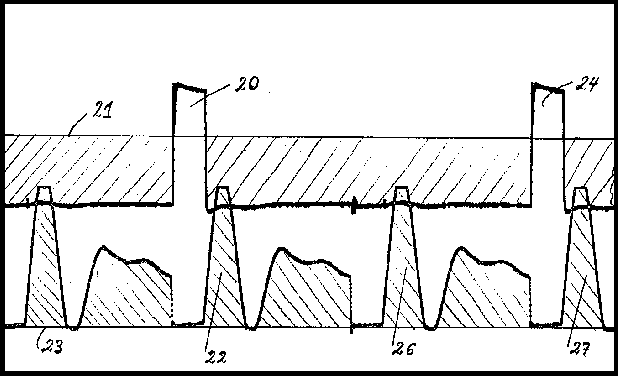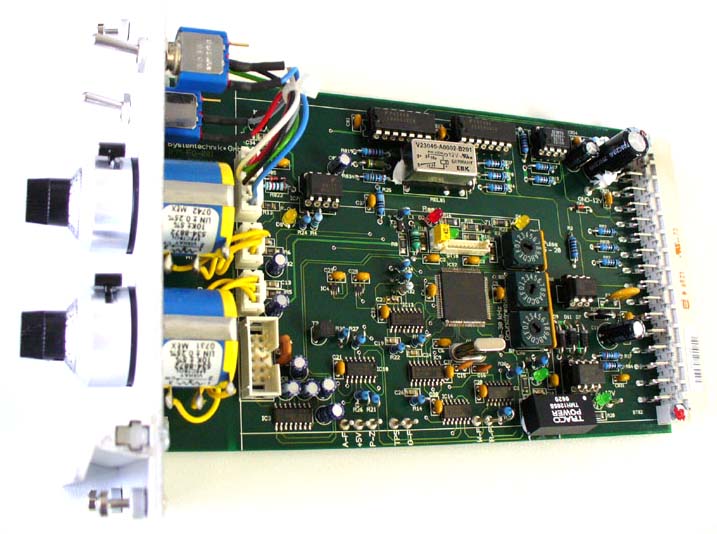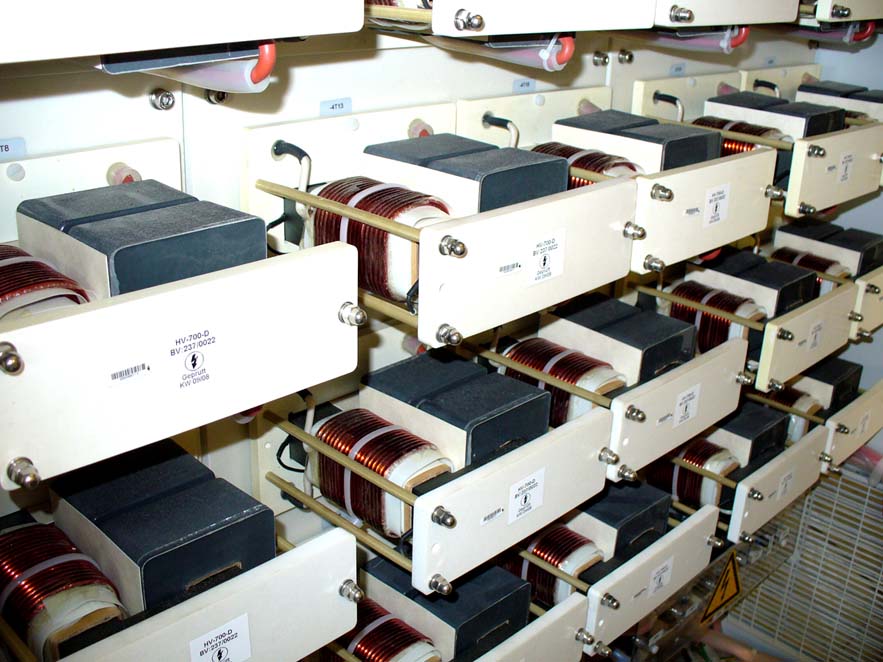 ---
Optical online OPSS-1 porosity, permeability scanning systems for substrates
Patent pending DE10251610 – China patent grand 200310104764
Sophisticated, multi functional, optical online sensor systems
IPM has developed a number of new, patent pending, stationary, scanning optical control processes, devices and systems for fast moving webs or fabrics to detect very precise and reproduce their specified product properties in online operation during production.
Introduction
OPSS-1 OPRL-1 vision control systems are equipped with multiple IR, NIR, VIS monolithic spectral color sensors, precision line lasers, CCD imagine devices, DSP, ATMEL and INFINEON sensor internal controllers, own firmware, high speed data link, at scanning speeds from 20–500 mm per second, at web widths up to 5,000 mm, measuring gaps from 2.0-5.0 mm, optical inline detection of permeability, porosity, spectral transmission, opacity, extinction, particle absorption, porosities ranges from 80 up to 5,000 C.U. (Coresta), respective from 50 down to 3 Gurley, position control of micro perforation lines with 0.1 mm accuracy, nano micro pores from 50 nm up to 200 micron diameter by up to 300 pores per cm2. With real time data determining of certain parameters, optical transmission, spectral grades, porosity integrals, envelope curves, internal calculated measuring values.
Thus direct with close loops and feedbacks to the power electronics of fabrics treatment units. Micro perforation or other system makes it possible to compensate any changes in web treatment parameters and their partial locations so that each jumbo roll as well single, quad bobbin sets can be produced quantity and quality controlled without intermediate stops in order of ISO 9001/9002 certifications.
Thus sophisticate, precise, liable, repeat accuracy, easy visualized, optical online measurement techniques archives perfect ways to control and convert pneumatic, fluid, gas, jet streams, static permeability, naturally porous grades, filtration levels, breathable or ventilation effects, etc. at fast moving webs. Their conditions can be easily met by using optical transmission technology thanks to described processing in fully online stationary or scanning control units, extremely small pore dimensions, high fabric speeds up to 1,000 m/min by high repetition rates. That completely independent from base material properties as consistency, coloring, density, formation, pin holes, smoothness, stretching, shrinking, brightness, opacity, optical spectral property, gauging thickness weight, moisture content and other known influences.
Applications
The electrostatic nano or micro perforation, including Co2 slab fiber yag excimer diode laser, other material going trough or surface treatment, as well for micromachining and nanotechnology, is usually used depending on quality at fine, rotogravure or offset printing, holographic or publishing paper, writing, magazine, newspaper, packaging, bonded fabrics, non-woven, filter, coffee, tea, bag, sack, craft, food, fresh fruit, force, reinforce, tipping, cigarette, plug wrap, fiber, facial tissues, toilet, decoration, wallpaper, gift, watermark, towels, bleached dyes shiny or clay, recycling, booklet, bible or other special paper, certain plastic films, foils, coating, laminating, extruding, Polyofine, Polysulfone, Elastomer, textile, Polymer or most of that varied types.
It is also used especially for additionally treating materials when aiming special characteristics by physical or regular process reasons cannot be achieved by other process technologies. Material base weights from 10 up 150 grams per m2 by thickness from 5 up to 100 micron are possible to use. Including defect inspection, process automation, moisture vapor transmission rate, abrasion resistance for lamination of waterproof and breathable fabrics.
Our state-of-the-art, industrially approved, sophisticated, compact, multi functional, optical online sensor scanning systems together or without electrostatic, laser perforation technology operates precise and reliable 24/7, are integrate able into existing rewinding, slitting, spooling, spreading, printing, labeling, complex production lines or other machines and other production processes as well. Also, they can be used as completely independent micro surface-all-over or zone perforation units. Fully new ranges of applications will be made available total new products with special features.
Specific information by website links and patent resources.
Introduction OPSS-1
A German-Thai high-tech, engineering company has developed an optical online porosity or permeability scanning system. It works with two different multiple sensors units, i.e. precise line laser, colour sensors and internal controller unit for real-time positioning and porosity control in light transmission mode whilst scanning across the fast running webs up to 600 m/min. The main advantage compared to existing technologies is the measurement of perforation zone/line positions and porosity levels in the same time while the scanner system across the running material web up to 2,000 mm width.Science, R&D, Universities, industrial partners for a licence agreement and / or technical co-operation are sought.
Working principle
The porosity control of natural porous and/or perforated web material in laser or electrostatic perforation systems which are produced in speed ranges up to 600 m/min and web widths up to 2,000 mm is difficult to measure with pneumatic systems because of following disadvantages: web tangency, web toughing, material flaking, formation of folds, dust and dirt entering the system.
These difficulties can be overcome with stationary or scan, optical porosity measurement systems for porosity ranges from 80 up to 5,000 Coresta units (ml/2cm2/min) respectively 3 to 50 l/m2/Sec. (Franksystem) by nano, micro or macro holes sizes from 0.5 up to 500 microns and hole densities from 10 macro holes per cm up to 400 holes per cm2
The optical online porosity control technology is designed to scan perforation zones with a multiple sensor and their positions with a precision line laser to determine all data in real time with an internal controller unit. It controls roll material or bobbin formats, either as a stand-alone unit or mechanically coupled with existing scanning units which measure the material weight, thickness, opacity, density, brightness, smoothness, formation, etc.
By laser and electrostatic perforation in bobbins and wide paper web formats optical online control processes and their devices are indicated with transverse movements across the web and simultaneously collections of perforation positions and porosities by two different sensor systems.
Both measuring systems move transversely between 50 up 400 mm/Second over the fully web width. They consist of a line laser detect the quality and position of single holes, groups of holes or defined perforation zones into the measuring gap of 5.0 mm. At the same time, the multiple light transmission sensors monitor all porosity profiles and determines envelope curve and calculate the integrals.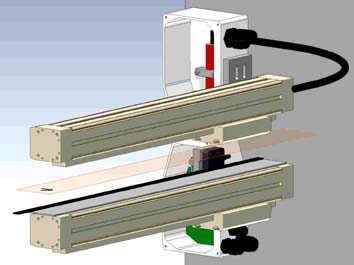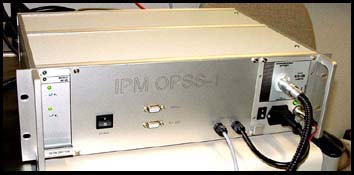 Advantages
Thus direct feedback into the perforation system makes it possible to compensate any changes in terms of porosity and perforation locations so that each jumbo production roll up to 25,000 meters as well single or quadruple bobbin sets can be produced and controlled without intermediate stops and certificated in quantity und quality on their end.
Natural porous or perforated web material as cigarette, tipping, plug-wrap, filter, packaging, non-woven, flees, coated paper as well micro or macro perforated plastic films as BOPP, LDPE, PP, EVA, HDPE, etc. are controllable with the OPSS-1 scanning system.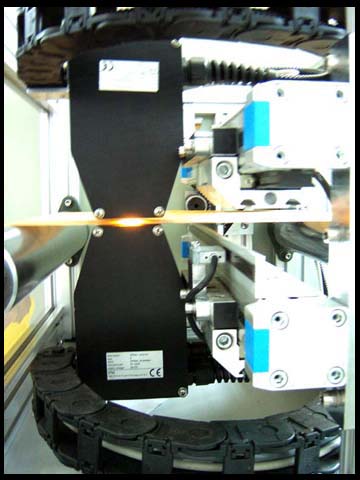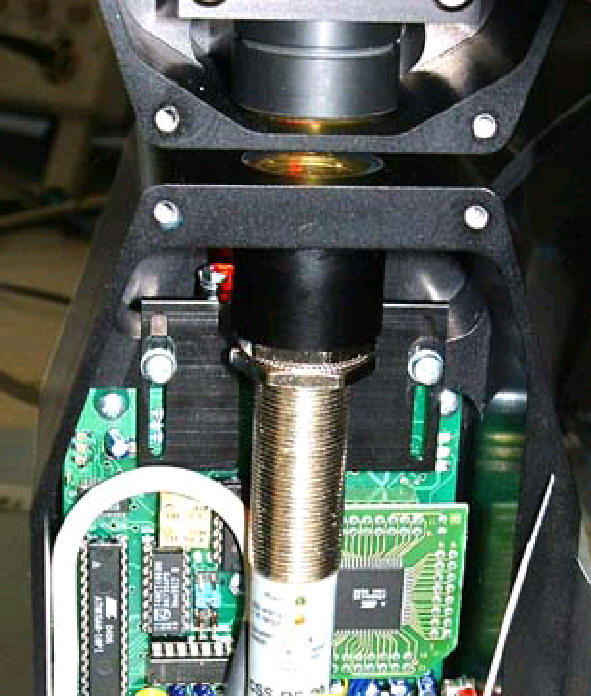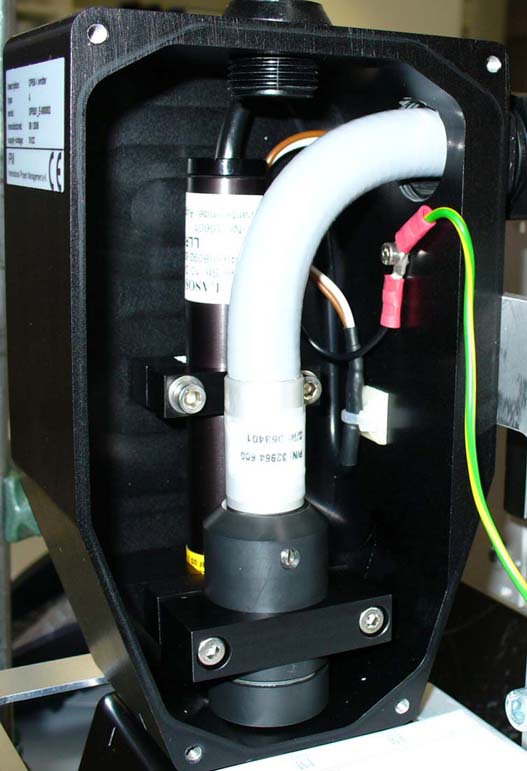 Online porosity sensor scanning control
Since naturally porous web materials or web materials to be perforated are processed with speeds of up to 600 m/min by web widths of up to 2000 mm are used, pneumatic porosity control, hence measuring whilst touching the web are highly difficult. Further difficulties of pneumatic measurements are the disadvantages of rising of web tension, material abrasion, folding, leakage at measuring head, impurities, non linear processing, calibration problems and scanning effects.
Thus, optical measuring offers better ways for transmission measuring the pneumatic static permeability for naturally porous or nano, micro or macro perforated webs. The conditions mentioned above can be easily met by using the optical porosity or porovision control technology thanks to the mentioned product processing and online control, extremely small pore dimensions, relatively high track speeds and a good value repetition.
That full independent from principle material facts as consistence, thickness, weight, coloring, formation, smoothness, brightness, opacity, and other influences.
Patent pending for process and device DE10251610 - China patent grand 200310104764
Therefore, IPM – International Perforation Management – has developed a pending, stationary and transverse optical porovision control processes and systems which working with multiple color and wave length sensors, a precision line laser, scanning speeds from 20 – 200 mm per second, porosity ranges from 80 up to 3000 C.U., perforation lines detection by 0.1 mm, nano micro holes sizes from 500 nm up to 200 ΅m diameter and up to 250 holes/cm2.
To detect the multiple wave light transmissions and perforation profiles values to determine each envelope curves of porosity profiles and their integral values with a sensor internal DSP controller unit and Firmware simultaneously.
Thus direct feedback into the perforation system makes it possible to compensate any changes in terms of porosity and perforation locations so that each jumbo roll production up to 25,000.00 meters as well single or quad bobbin sets can be produced and controlled without intermediate stops and certificated in quantity, quality in order of ISO 9000/9001 or others production standards.
Outlook
The electrostatic nano or micro perforation usually applies within ranges of the refinement of fine paper, packaging webs, bonded fabrics, non woven, filter, bag or paper alternative material webs of most diverse kind especially when additionally or traditionally treating processes can not achieving the high require characteristics for physical, process or economical reasons.
Our highly modern, industrially approved electrostatic perforation technology which relied 24/7 operation can be integrated into existing rewinding, slitting, refining machines as well in entire production lines. Also, they can be used as completely independent perforation processes or machines.
New ranges of applications will be made accessible as new NANO MICRO product properties with special features will be developed.
OPSS-1 optical online porovision control - download OPSS-1
more details http://www.microperforation.com/opss-1-optical-online-porosity.html
Actual press release http://www.flexo.de/download/fga/1-2008/Inhalt_FGA_1_2008.pdf
---
IPM Patents
MLL-1 – Micro Laser Line Perforation for pattern, perforation design, waves, zigzag lines, packages, cryptograms, company logos, holograms, anti counterfeiting indicators

patent pending for process, device and product property DE102004012081

LPM-1 – nano micro laser perforation at wide web material with high power CO2 dual laser beam multiplexers and splitters

patent grant for process and device DE102004001327

ESP electrostatic nano micro perforation machines for cigarette, tipping, filter, packaging, plug-wrap and other paper products

patent grant for process and device DE10328937 of IGBT power switching unit

Optical online OPSS-1 porovision control/scanning system for ESP or LASER perforation machines

patent pending for process and device DE10251610 - China patent grant 200310104764
P
atent data archives
EU technology links
PowerSourcing Links
Patent links
---
copyright Mr. Werner Grosse
P
atent downloads
http://www.microperforation.com/englishengineerreport.html
main link
http://www.microperforation.com/ipm-technology.html
download
IPM-PORTFOLIO
---