IPM - International Perforation Management
high-tech engineering - Germany - Thailand - China
tel/fax: 0049-3212-5375175
http://www.microperforation.com
http://www.deguodaguan.com/ipm/
Email: sales microperforation.com - perforationpeople web.de
copyright Werner Grosse
Patent download http://www.microperforation.com/englishengineerreport.html
main link http://www.microperforation.com/ipm-technology.html
IPM PORTFOLIO
ENGLISH
IPM PORTFOLIO
SPANISH
anti counterfeiting laser solution
MLL-1
---
Micro Cluster Patent Technologies
MLL-1 micro laser line perforation real alternative for galvanometer scanner, cluster micro technology for hole pattern, perforation design, waves, zigzag or packages lines, cryptograms, company logos, holograms, anti counterfeiting, security paper, safety, bank note, metal sticker, printing, laminating, coating, credit cards, transparent films, holographic paper, cigarette, tipping, filter, aluminum foils, shrinkable films, tear tapes, labels, cardboards, bar or matrix codes, marking, scribing, jewelry, automotive, pharmacy, golf, smoking, chemical or medical product, electronics part, indicators, porosity contours or profiles, embossing, bioengineering, membrane, filtration, focus, holographic, hinge-lid, pack, hole, porous, hole, line, micron. Patent pending for process, device, product property DE102004012081.
LPM-1 micro laser perforation at wide web, large area, surface or whole material cluster treatment, cutting, welding, drilling, ablation, cleaning, melding, high power dual rotation laser beam splitter, twin multiplexer level, 4/6KW optical input, flexible hollow fibers, 200 output channels, Co2, Yag, Excimer, UV, emission. Material treatment and robotic handling for stainless steel, ceramic, aluminum, wafer, gold, glass, silver, brass, copper, titanium, diamonds, jewelry, silicon, solar, panel, photovoltaic, micromachining, slitting, rewinding, refining machines or stand along systems. Patent grand for process and device DE102004001327.
Nano Micro perforation or other material including surface treatment, electrostatic nano micro cluster perforation for cigarette, tipping, filter, packaging, plug wrap, Kraft, cement sack, bag, fine and other paper, silicon or other coatings, certain plastic films, laminates, porosity from 80 up to 2500 Coresta Units, from 20 down to 6 Gurley, hole sizes from 50 nm up to 100 microns, hole densities from 80-260 h/cm2, zone widths from 2.0-6.0 mm, up to 16,000,000 holes per Second, web speeds up to 500 m/min, web widths up to 2000 mm. Patent grand DE10328937.
Twin AC/AC, AC/DC frequency shift converter high power, high frequency, high voltage, ultra short mega peak current, electro static nano or micro cluster perforation, ignition, sparking, arc, cigarette, tipping, filter, fine, packaging, paper, plug-wrap, sack, bag, Kraft, food, plastic film, foil, textile, fabrics or other products, switching converter, compressor, emergency, train, ship or vessel power supply, generator, fuel cell, upward, downward, frequency shift switching unit, gas, slab, laser, diode, stack, fiber, beam, material, hybrid, plug-in, car, battery, lithium, Ion, renewable, energy, wind, solar, panel, technology, recycling, medical equipment, membrane filtration, robotic, photovoltaic, industrial automation, drives, IGBT, MOSFET, tube, rf, hv. Patent grand for process and device DE10328937.
Optical online OPSS-1 porovision scanning control system permeability cluster control for electrostatic or laser micro perforation machines, multiple color sensor head, spectral intensity, DSP, FPGA, CCD, line, precise, laser, position, material finger print detection, VIS wave length, opacity, defects, inspection, image control, scanner systems, process software, line, camera, vision control, filter, tipping, cigarette, book, packaging, magazine, bible, wall, Kraft, paper, carton, coffee, tea, food, co-extrusion foils, films, agriculture, cement, domestic or other moving fabrics or web material. Patent pending for process and device DE10251610. China patent grand 200310104764.
In-situ dynes or surface tension control ODSTM-1 at fast moving substrates, plastic, films, foils, tear tape, laminate, co-extrusion, BOPP, LLDPE, PE, PP, PVC, MOV, MOH, FEP, PET, OPP, PTFE, MPET, online, spectral, extinction, monolithic, sensor, analyzing, measurement, wave length, Raman, stray, beaming, water drop, angle, inspection, corona, plasma jet, laser, IR, NIR, scanning, wobbling, stray light, spectrometer, etc. Previous patent application DE19542289.
P
atent references
http://www.wikipatents.com/gb/2149092.html
http://www.wikipatents.com/de/3332886.html
http://www.wikipatents.com/de/2918283.html
http://www.freepatentsonline.com/EP0460369.html
http://www.freepatentsonline.com/7224447.html
PowerSourcing Links
http://www.PowerSourcing.com/se/lasermicroholedrilling.htm
http://www.PowerSourcing.com/se/laserscanning.htm
http://www.PowerSourcing.com/se/laseroptics.htm
http://www.PowerSourcing.com/sf/electricalpackaginglinedesign.htm
http://www.PowerSourcing.com/sf/packaginglinedesignelectrical.htm
http://www.PowerSourcing.com/se/paperproducts.htm
http://www.PowerSourcing.com/se/coatedtreatedpaper.htm
http://www.PowerSourcing.com/sf/microperforation.htm
http://www.PowerSourcing.com/sf/lasermicromachining.htm
http://www.PowerSourcing.com/se/machinetoolsinspectionqualitycontrol.htm
---
Nano micro perforación - un archipiélago de las posibilidades técnicas
1. Nano micro perforacion
La perforacion electrostatica alcanzaron ampalia difusion en la nano micro perforacion de bandas de papel fino y tambien los NANO MICRO POROS en materiales flexibles para embalaje en rollos y productos fabricados con estos permeables al vapor de gas, por lo tanto, con respiration active pero, sin embargo, permaneceran impermeables para los liquidos en un grando importante y de esta manera actuaran como barreras justamente segun lo requerido en la bandas con coating o plasticos.
Los materiales acabados de esta manera son de interes para el papel fino, cigarrillo, empaquetado, en el Ilenado, en Ia industria de Ios no tejidos y para otros compos tecnicos de aplicacion. Los micro poros se pueden insertar en Ia banda en movihiento en forma electrostatica, incluso con veIocidades de proceso medias y granges anchos de Ia cinta.
En el pasado y ahora los papeles finos y otros, con gramajes entre 20 y 150 g/m2 han sido perforados electrostaticamente en todo su superficie en zonas, linea o area especiales. Entre ellos se encuentra el papel de cigarrillo, el papel fino para Ios extremos de cigarrilllos ventilados, el papel de filtro y papeles kraft asi como varies no tejidos y otros materiales en bobinas.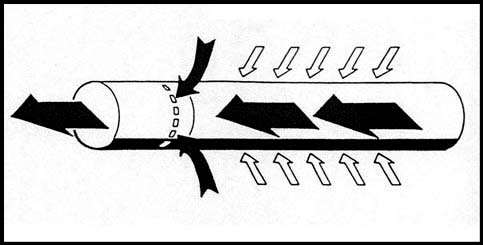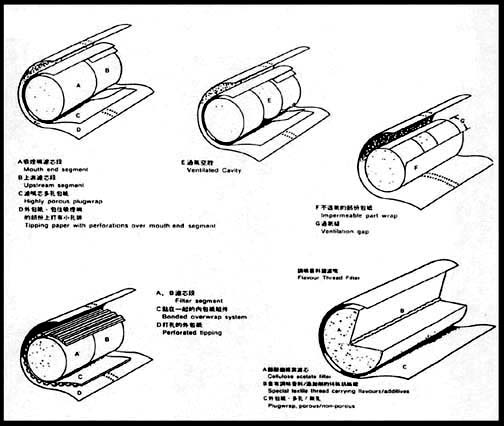 Tamamos de poros desde 1 um hasta 150 um y distribuciones de Ios poros hasta 2 mio./m2 con perforaciones en toda Ia superficie y de 240 poros/cm2 con perforation de zona y 16 mio poros/secundo se pueden alcanzar medicate la microperforacion electrostatica. Los anchor de Ia banda y las velocidades de la maquina dependen de Ias aplicaciones, del formato del producto, de Ia consistencies de los materials y de Ios valores de permeabilidad a Ios gases de 100 – 600 m/min.
2. Principio de Ia perforacion
Electrostaticas de perforacion que generan micro poros dependen de consistencia el materiales, por debajo de un diametro de 1 um, mediante la ayuda de pulsos de alto voltaje concentrados pora aumentar la transmisibilidad al aire y al vapor de gas, mientras que conservan una suffciente estanqueidad al liquidos.
La perforabilidad especifica, Ias frutas y la calidad de Ios poros, y Ia eficacia de la perforation dependen de Ia resistencia dielectrica, constante dielectrica, espesor del material, y Ia estructura molecular, asi como de Ios pigmentos, cargas, y la calidad de Ia superficie. Por lo tanto, la unica manera de determinar Ia microperforabilidad del material de Ia banda es mediante ensayos previos sobre formatos de hoja o en bobinas pequenas para la primera prueba.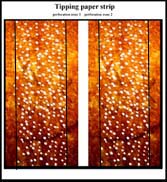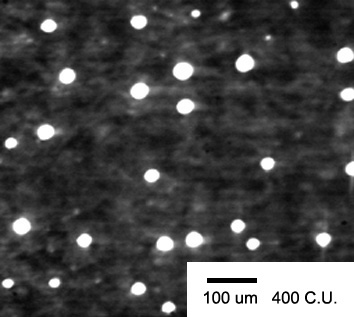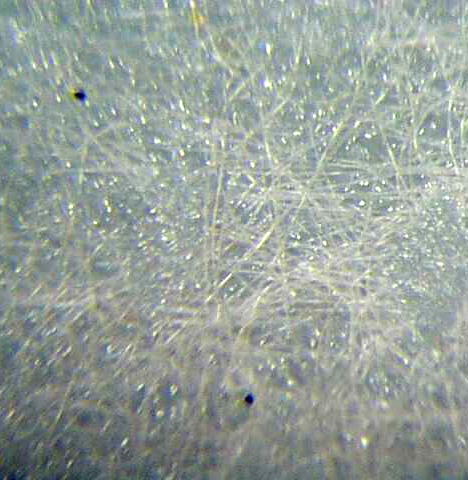 Se ofrecen actualmente instalaciones para fabricacion de productos con perforaciones electrostaticas sobre bandas anchas hasta ahora no disponibles. Lo posibilidad de medicion en linea, de la zona o area de porosidad o de la permeabilidad de la zona y de la control de la perforacion permite que sean resultos Ios requisitos para Ios tipos particulares y las disposiciones determinandas de poros en el material especifico. Con perforado sobre toda la superficie es posible producir nana o micro perforacion en bandas del papel fino, panel revestido, no tejidos, papel Kraft, papel cementos, balsas de todo tipo y cualquier clase de bandas de papel para empaquetado en una variedad amplia de aplicaciones.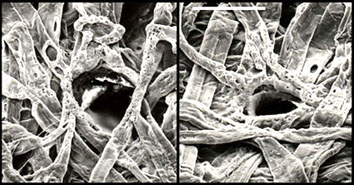 Un criteria de calidad importante es que Ia nano o micro perforacion sobre una banda no tendria que no ser visible. Esto puede lograrse solapando el entrelazamiento del electrodo, mediante el desplazamiento de la banda, y optimizando condiciones de energia en la section de la descarga de la chispa.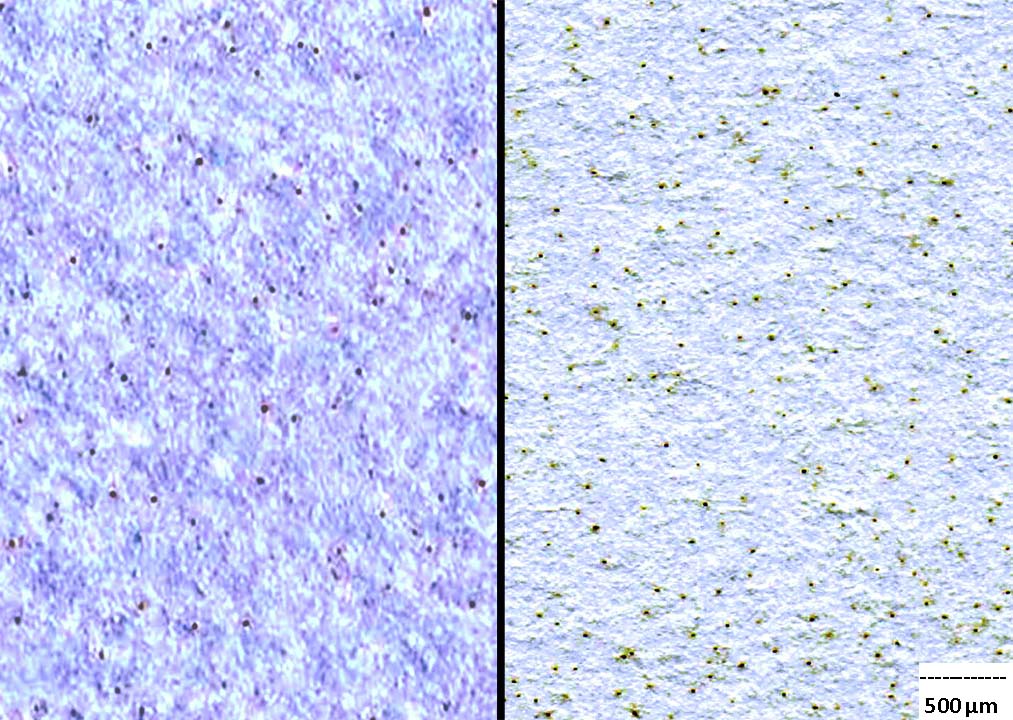 Tienen que considerable otros puntos similares para Iograr Ia formacion del poro exenta de rebabas y residuos, para asegurar que Ios poros no tengan ningun efecto prejudicial en Ios procesos de conversion del material perforado y que Ia presion del rebobinado no altere Ia porosidad.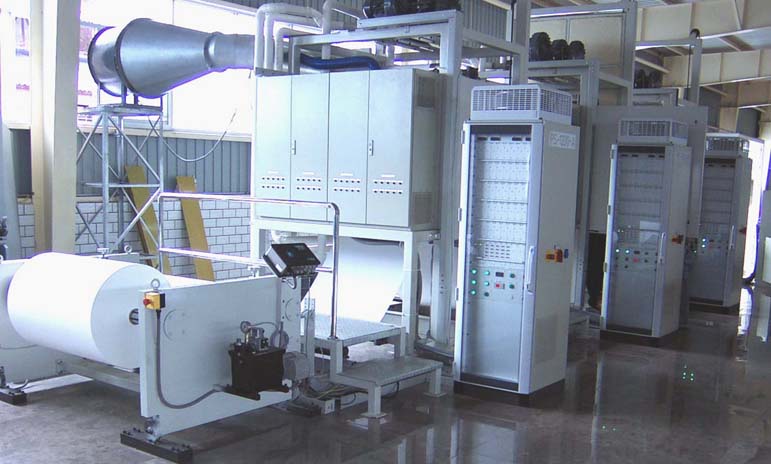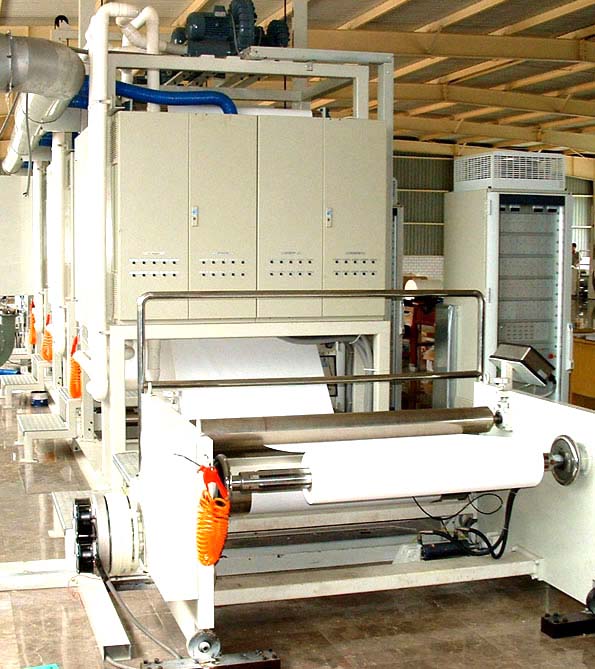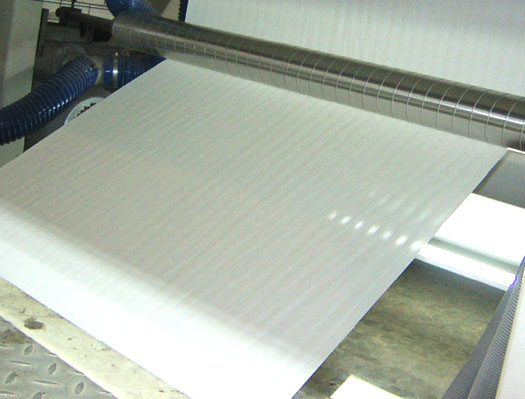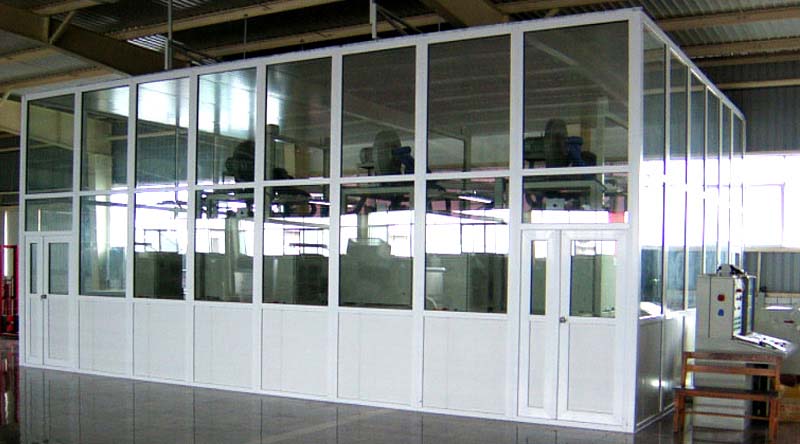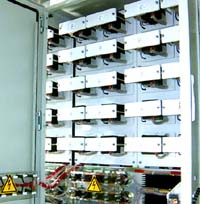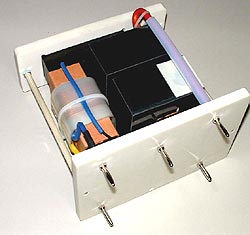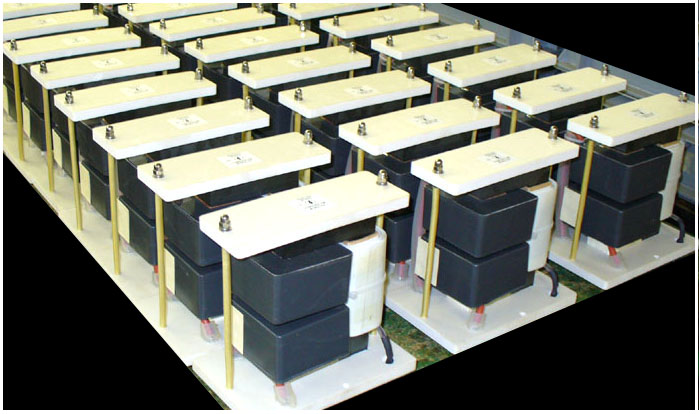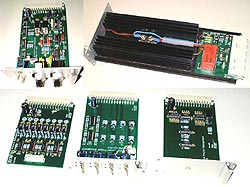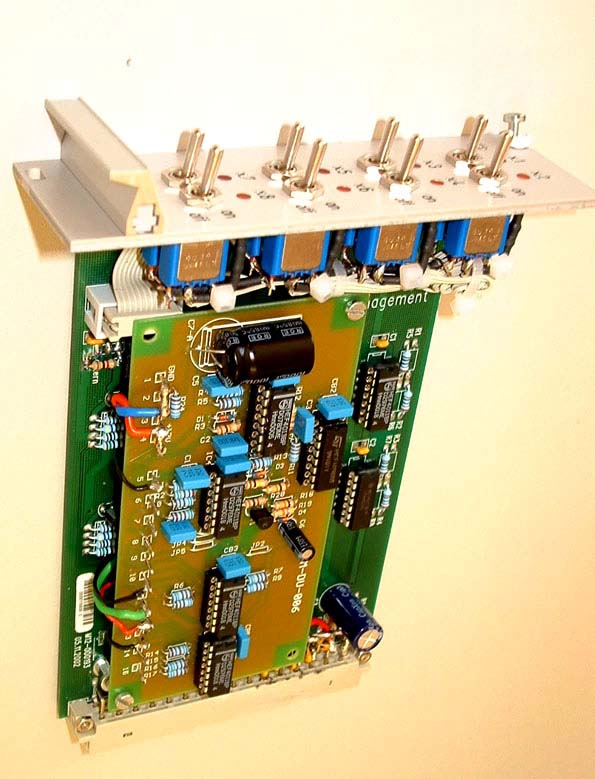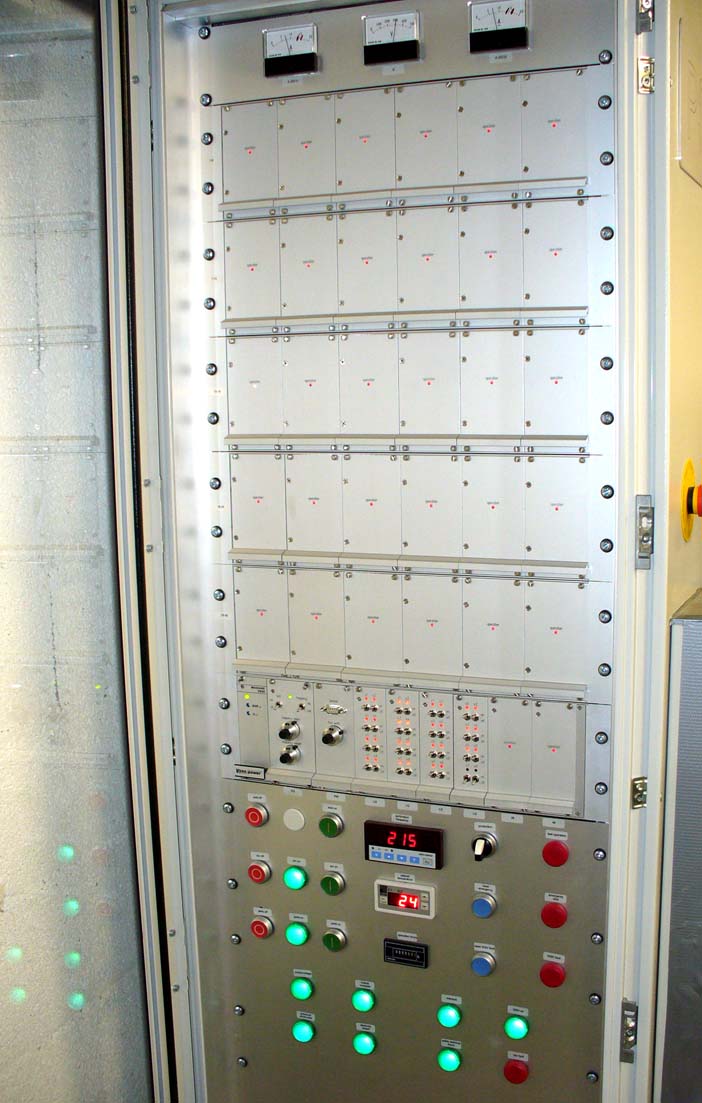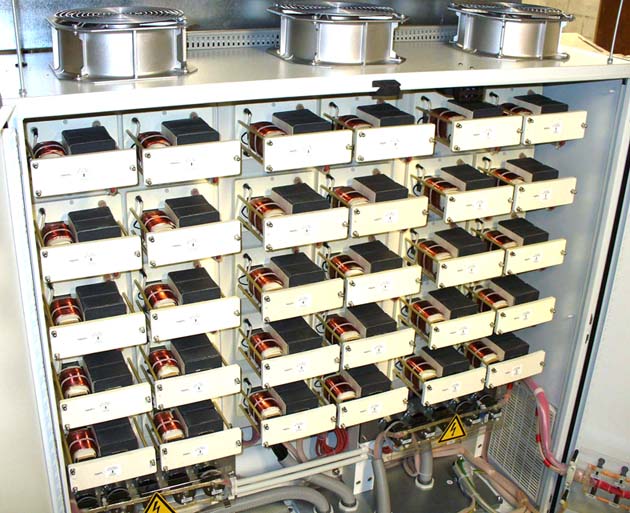 3. Deseno, aplicaciones, producto
·

Principios de derivacion para Ios filtros ventilados de cigarrillos

·

Resistencia

adicional al gas

del

papel de cigarillos sin filtro

·

Permeabilidad mas alta del papel de filtro especial

·

Procesos de Ilenado mas rapidos para Ios sacos y bolsos con Ios productos de cemento, alimento de animal domestico, maiz, en polvo o granulados

·

Bandas de papel revestido con PE coating para intercambios de gas

·

Packaging respirable con papeles revestidos para productos alimenticios

·

Papeles revestidos con caractesticas de barrera para aplicaciones varies, como el empaquetodo de jabon

·

Papeles revestidos para las mercancias que no toleranca la condensacion local

·

Peliculas plastico especiales o coating para el proceso de filtracion para el enriquecimiento del oxygeno o gas

·

Peliculas de multiples capas especiales para la ropa impermeable y para el acabado impermeable de la ropa

·

Hojos de proteccion de entretechos con intercambios de gas

·

Uniones de Ios guardapolvos desechables de una sola pieza

·

Textiles finos industriales, fabrics, peliculas

·

Bandas de papel Kraft para las places destinadas a construccion en seco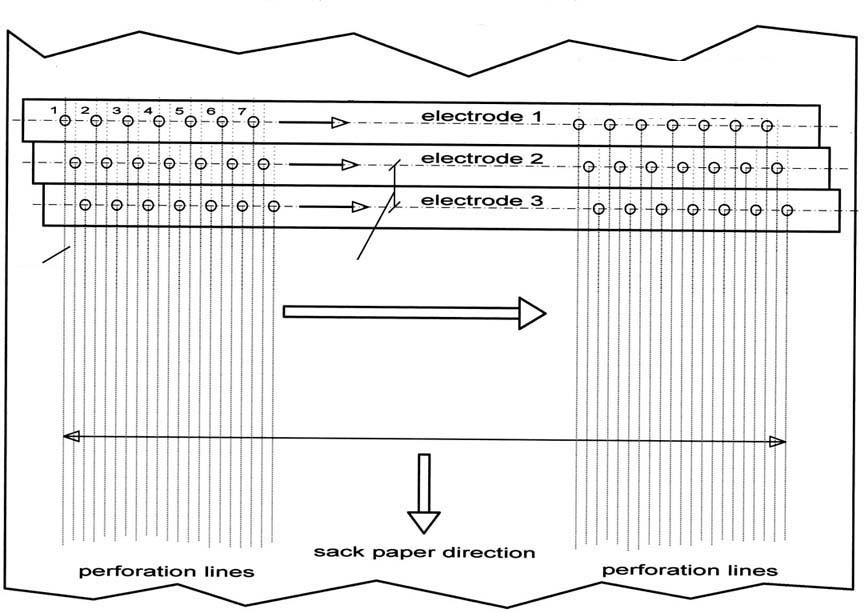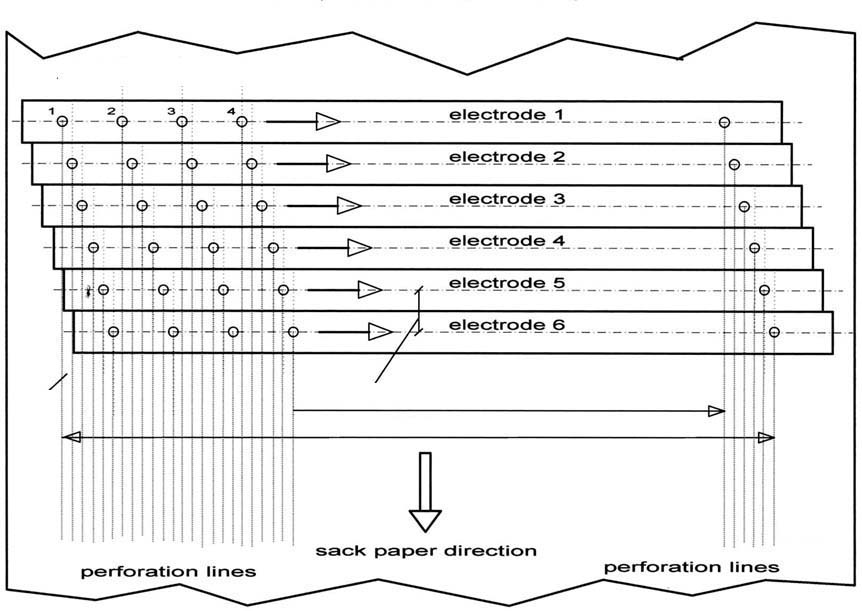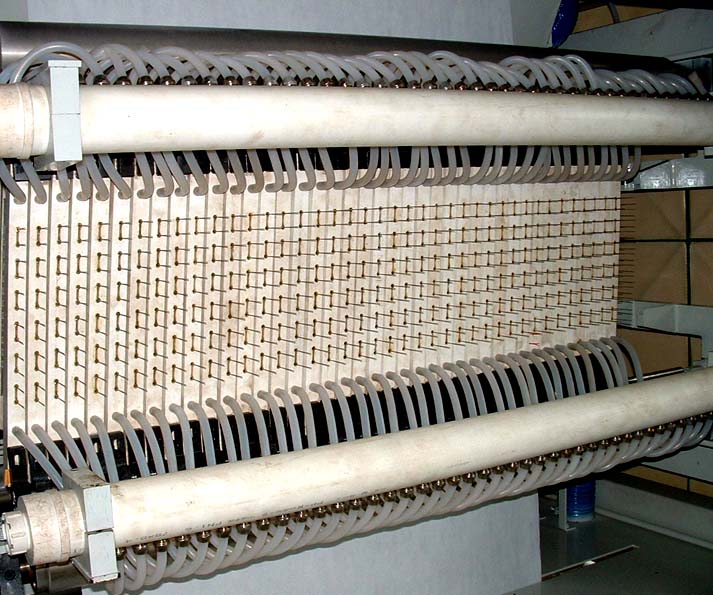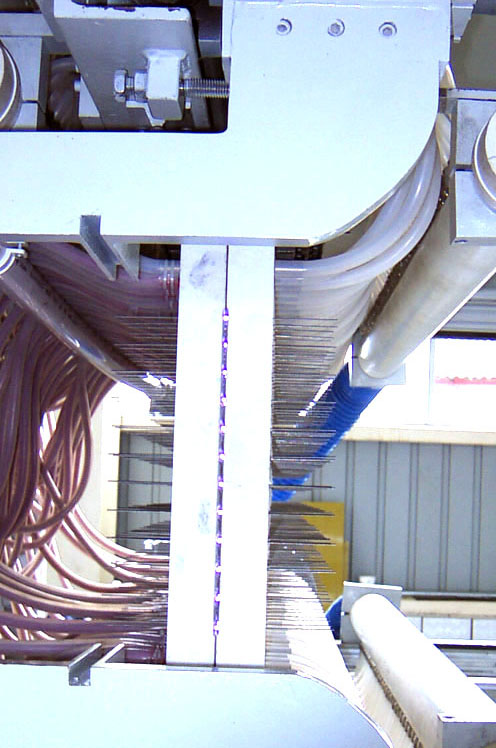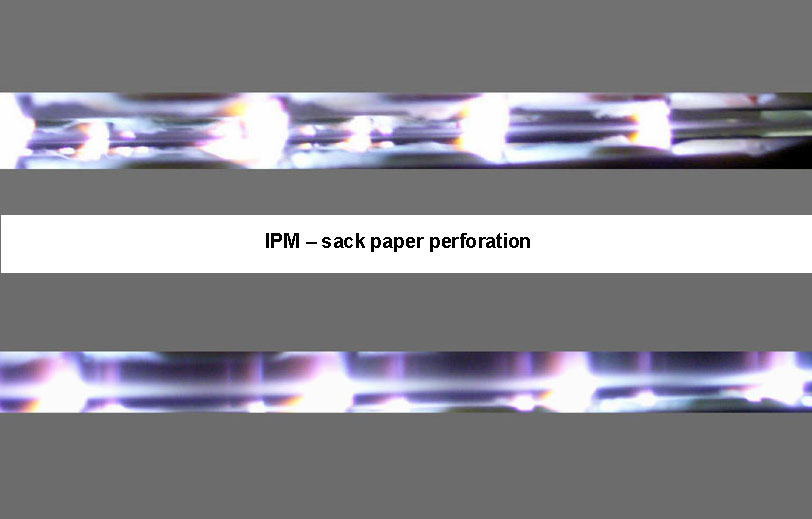 4. Perforabilidad de diversos materials
Hasta ahora se pueden perforar con el proceso los materials siguientes en bandas
·

Papel de cigarillos, papeles finos y en general del 20 - 150 g/m2

·

Bandas de papel Kraft, saco, cementos, papel hasta gramajes de 50 g/m2 - 150 g/m2

·

LDPE con espesor de 5 - 10 um o 12 g/m2

·

Vleeses, papel o coating revestidos con PE o PP con capas hasta 10 um o 12 g/m2

·

Multiples capas, papeI – LDPE – papel con espesor de 5 - 10 um o 12 g/m2

·

TYVEK

, PE, no tejido, con costuras soldadas, 45 -150 g/m2, 100 - 200 um

·

Textil, revestimientos de poliuretano y acrilato para ropa impermeable, ropa deportiva, ropas protectoras, aplicaciones tecnicas tales

como

flltros, membranes

·

Non-wovens, fabrics, tissue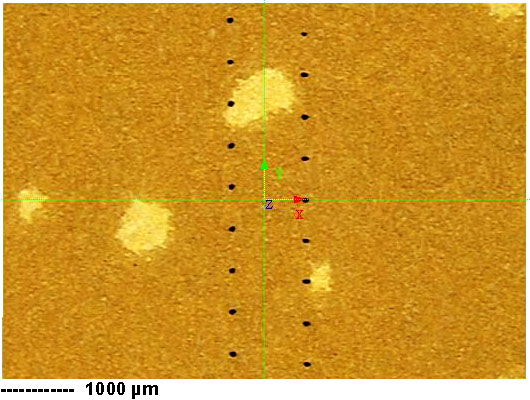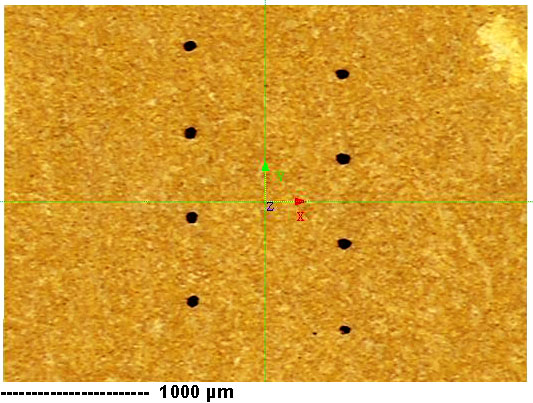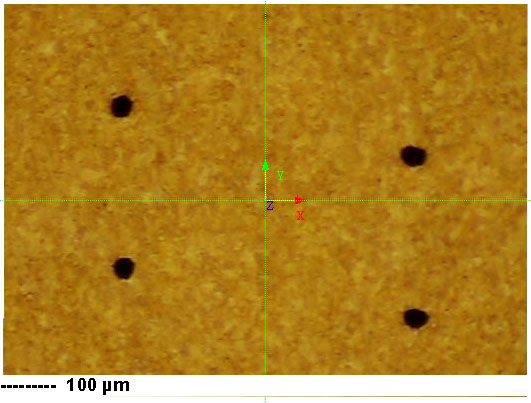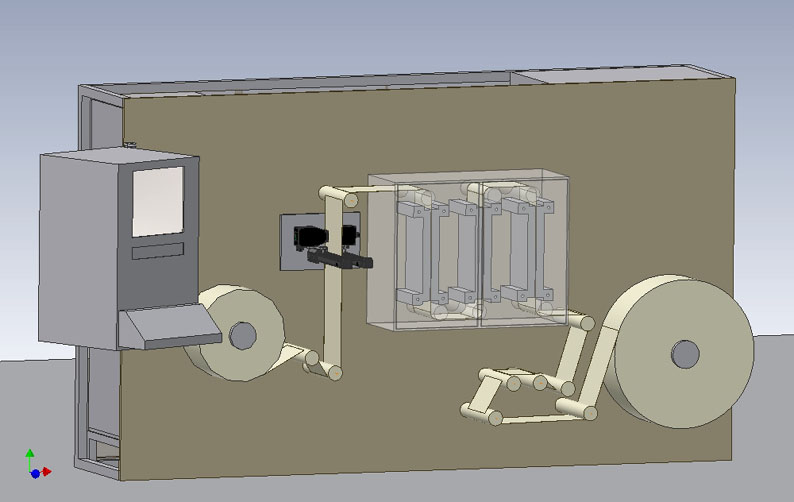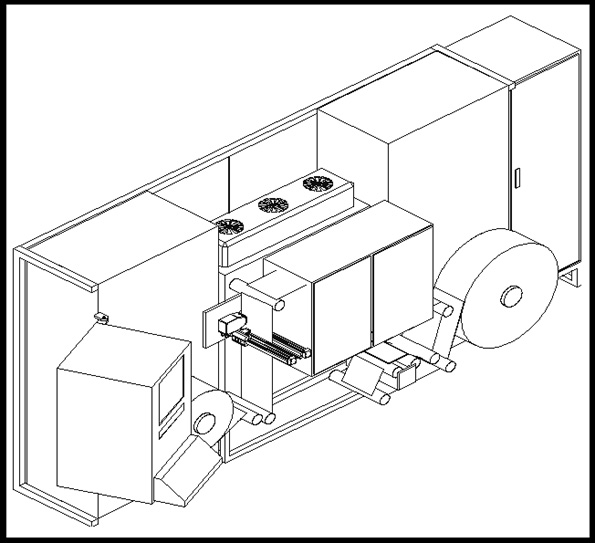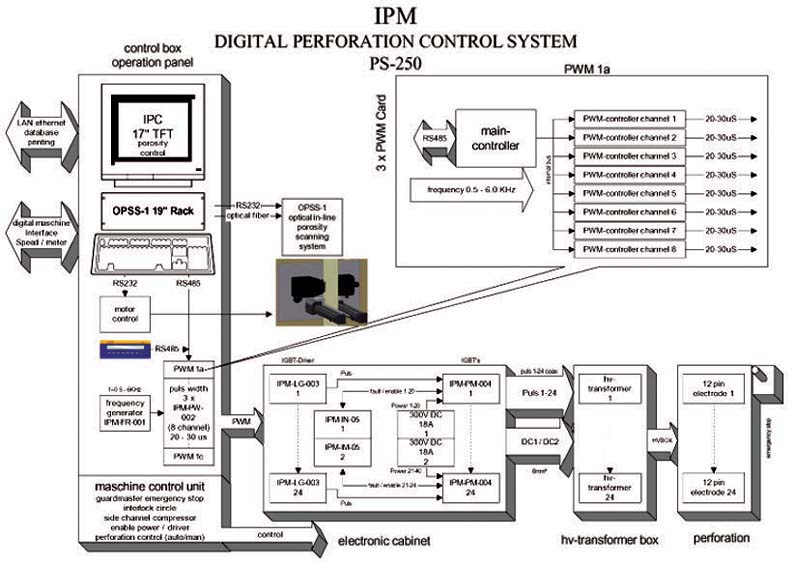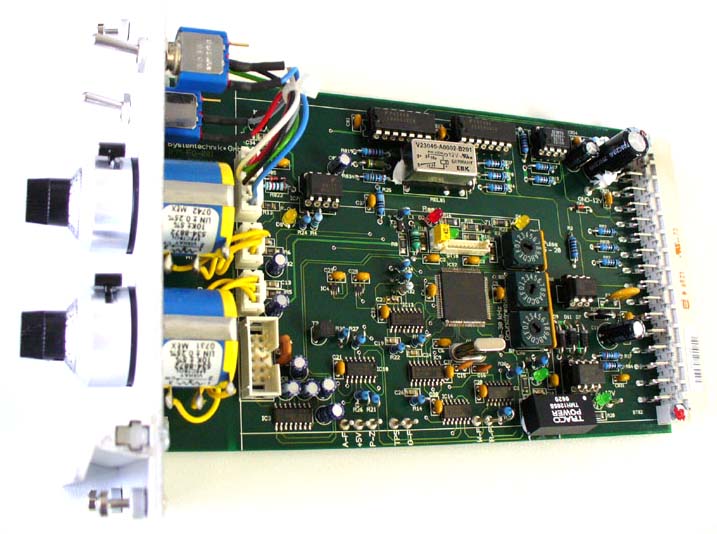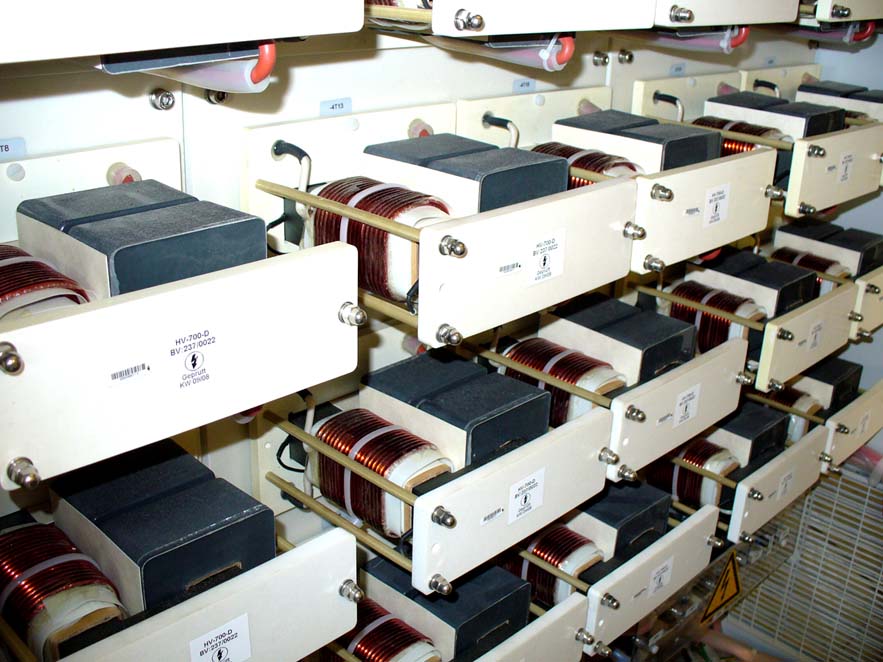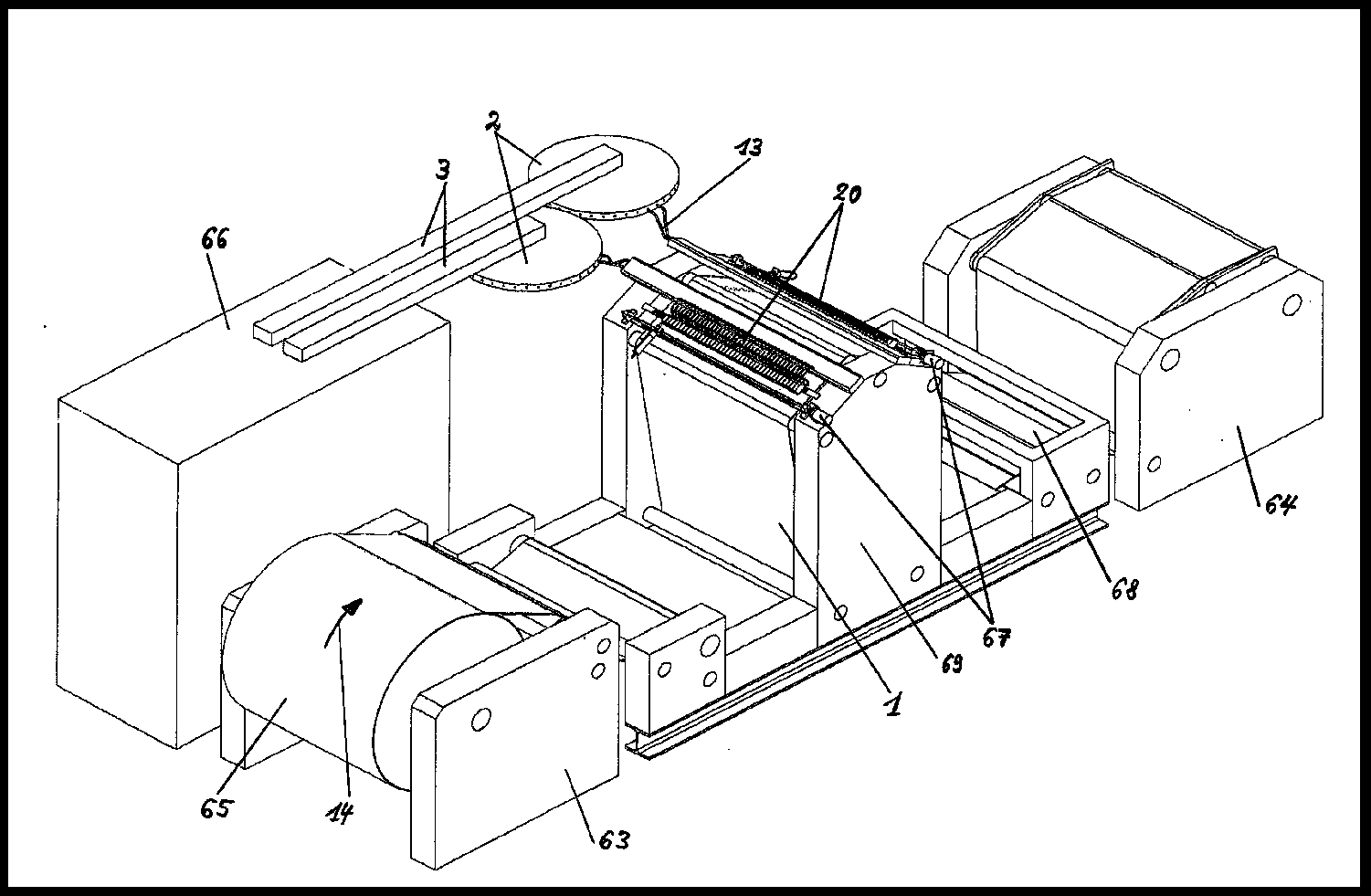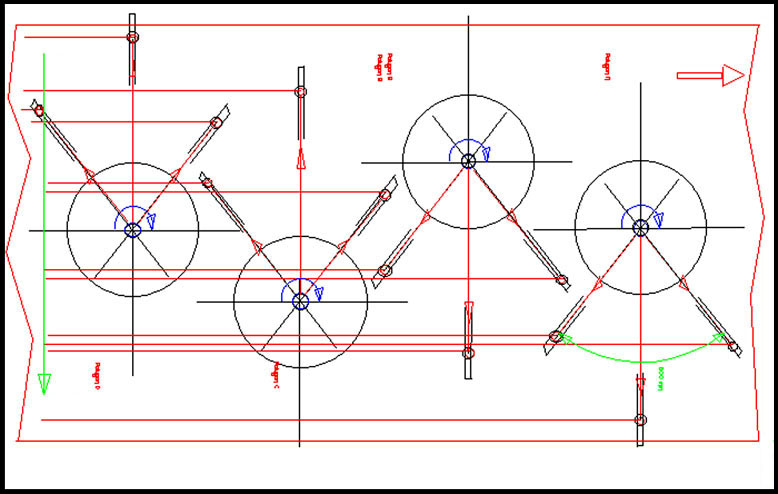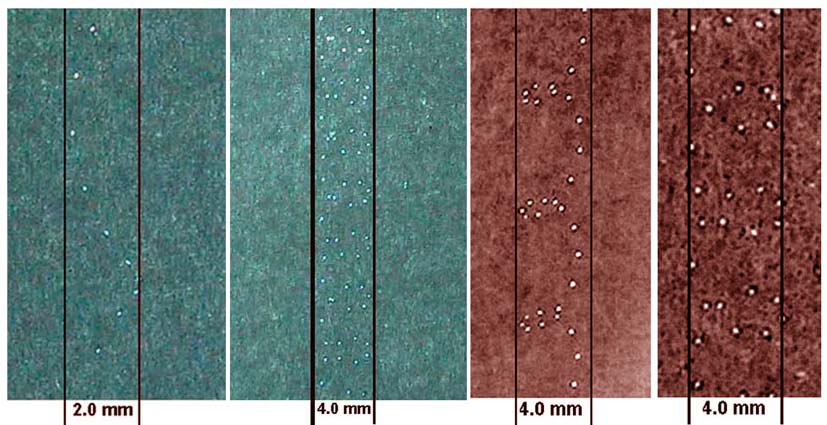 High-speed rotate octagonal beam splitter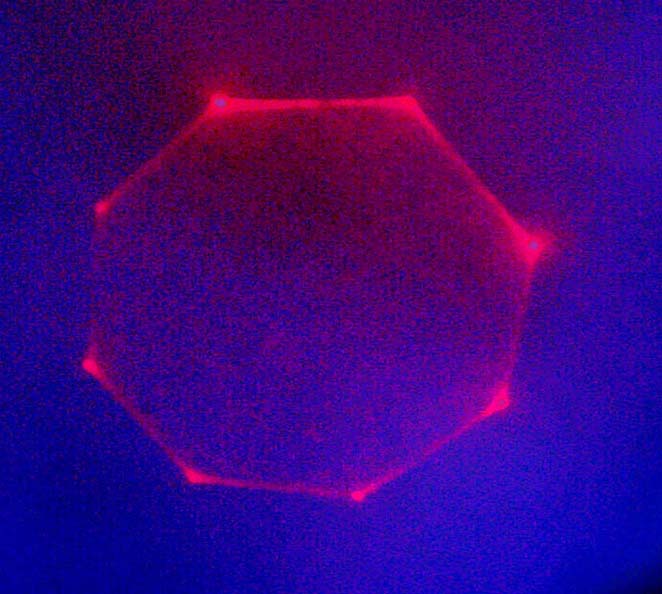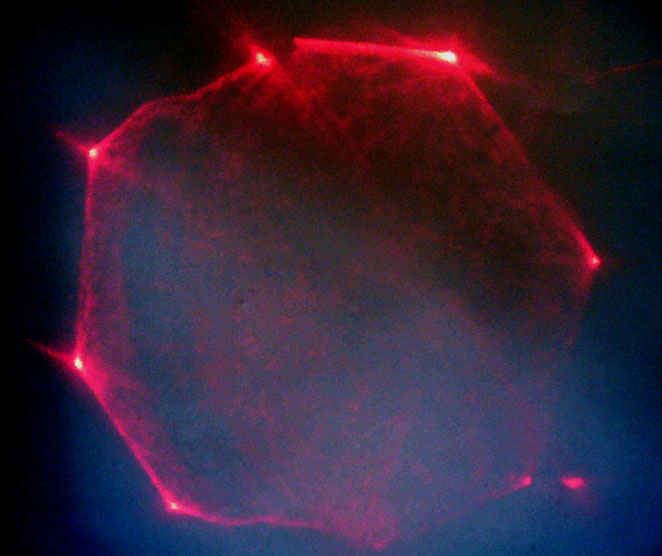 5. Online controlado Ia porosidad o permeabilidad
Para Ia mayoria de Ios productores de papel, y transformadores de materiales en bobinas, los medios de medicion de Ia porosidad a gas son necesarios. La necesidad de Ia medida de la porosidad llega a ser muy evidente cuando el material en bandas es sometido, adedemas, a procesos adicionales de nano o micro perforacion electrostatica o procesos de perforacion con laser.
Porque el material en bands poroso o perforado se produce dentro de una game de velocidades desde 100 - 600 m/min y con anchos de 100 - 2000 mm, las mediciones pneumaticas en linea de la porosidad son sumamente dificiles. Ademas, este metodo de detection en linea presenta desventajas tales como tangencia de la banda, dureza de Io banda, formacion de escamas, acumulacion de dobleces, polvo y sociedad que se introducen en el sistema, fuerte no linealidad, influencia de la temperature y mas.
6. OPSS-1 de Ia porosidad
Las dificultades arriba mencionadas se superan idealmente con el sistema inmovil, optico OPRL-1 para medicion de la porosidad. Tambien se ofrece el sistema OPSS-1 para al scanneado de una zona o linea superficie total, con medicion usando sensores transversales, color y linea laser y multi color sensores de controlada con el interna CPU. Este sistema OPSS-1 permite poder controlar bandas con anchos hasta 2000 mm, trabajar a lo largo o acoplarse mecanicamente con sistema existente de scanning, con medicion del peso del material, empesor formacion y mas. Mediante el uso de Ios porosimetros opticos, el productor, el convertidor, y el usuario final de Ios materiales en bandas tienen la capacidad de vigilar y controlar continuamente la calidad del producto y, con medios mecanicos de correccion, de mantener y aun superar Ias especificaciones preseleccionados.
EI uso de 19" PC industria y el elemento electronico de potencia modular permiten que Ia relacion de Ia frecuencia o pulso de par en par descarga con Ia velocidad de linea sea mantenida exactamente. Esto asegura un alto nivel de la estabilidad de funcionamiento en lo referente a porosidad – valor medio y variacion – a anchos de zona y registros de zona.
OPRL o OPSS-1 proveen, ademas, una certification directa del producto de los materiales de la banda paralelos y perpendicular a la direccion de Ia produccion, junto con un control de calidad en Iinea y en tiempo real durance la produccion. Tambien permite al maquinista de la perforacion mantener la porosidad requerida dentro de estrechos limites, con un rango muy bajo de variacion hasta velocidades de 600 m/min, con diversos anchos de bobina o de banda y diversos materials. Con Ia ayuda de una unidad 19" PC industria, es posible procesar a posteriori Ios valores medidos y analizarlos estadisticamente.
Con sistema de medicion, el operador y departamento del control de calidad de Ia maquina tambien puede cumplir con Ios requisitos para mejorar Ia calidad con bajos niveles de produccion. Incluso permite la certificacion del producto segun las normas de calidad ISO 9000, puesto que registra Ia porosidad a Io largo de Ia banda y transversal a la misma. Es posible tambien instalar un sistema central o descentrolizado con LAN para Ia captacion y procesamiento de dados.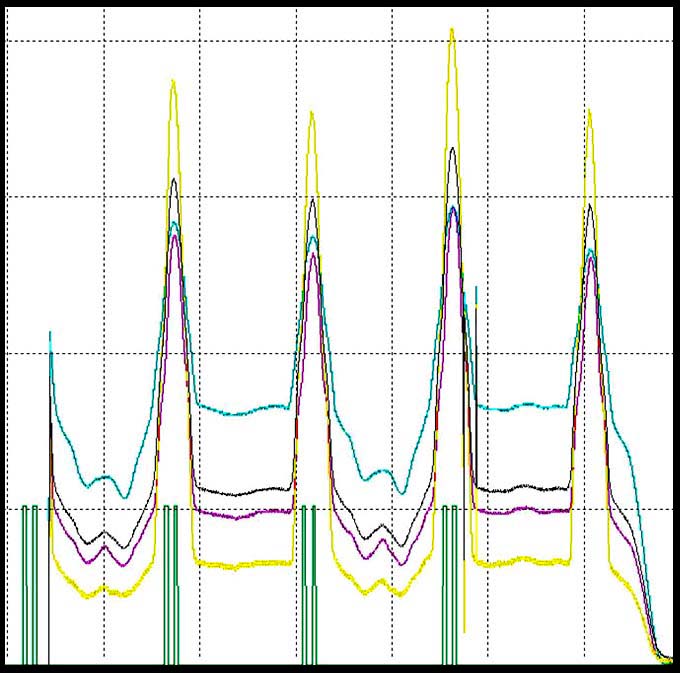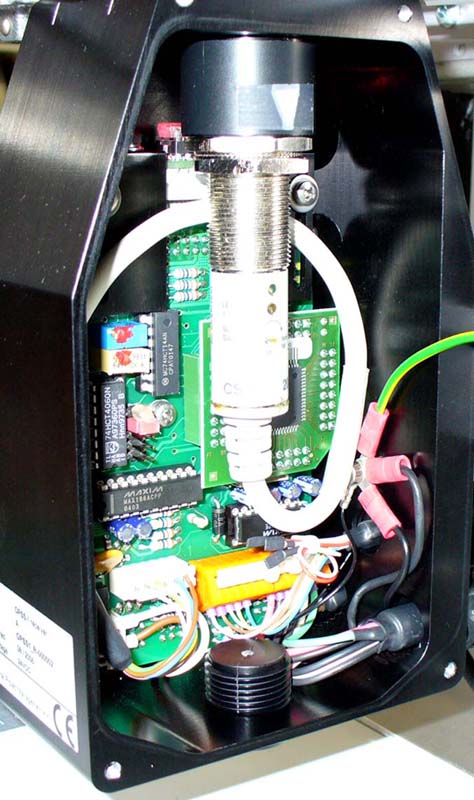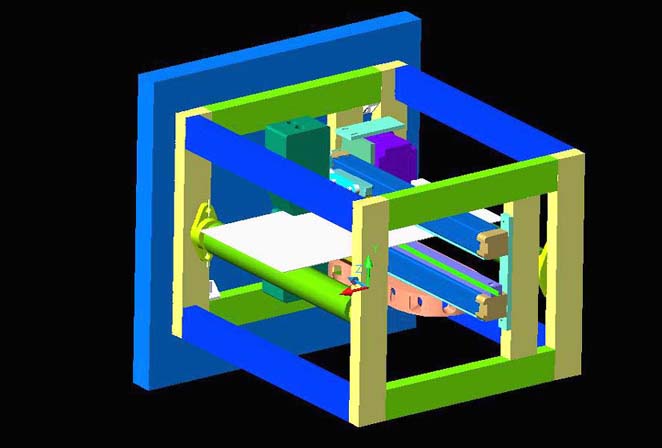 7. OPRL, OPSS-1 resumen
·

Optico controllado estatico o de rastreo para Ias zonas, lineas, areas perforation electrostaticas o Iaser

·

Medicion controlada en tiempo real mediante opto transmission de Ia zonas del material nano, micro o macro perforado

·

19" rack con equipo electronico y cassette de luz especial

·

Fibra optica en maximale de 6 m

·

Deteccion implementada del multi color sensor dispersion luminosa para la compensacion automatica

del

color material. diseno, esperor , pinholes, estructura

formacion, rugosidad superficial

·

Automatico calibracion de una sola vez del sistema de produccion

·

Protection contra polvo y luz exterior al systema sobre el dos areas de sensor

·

Rango de porosidad 80 - 3000 C.U. – Coresta unit = cm3*min/ml*cm2 - WG de 100 mm

·

Ancho de Ia zona de

perforacion 2,0 - 6,0 mm

·

Rango de porosidad 10 - 500 I/m2/s-1 - WG de 20 mm – Franke

·

Sistema de scanneado con una fuente de Iuz y dispositive de deteccion o traves del ancho de la banda

·

Detection tres colores, intensidad, sobres laser de linea por la porosidad con functionas matematica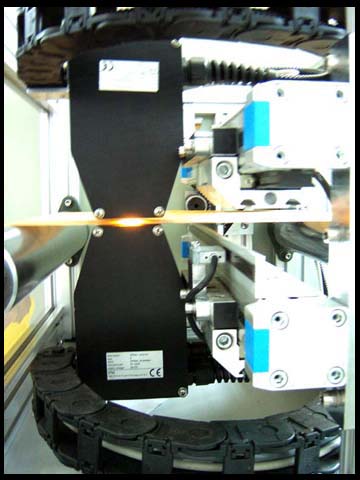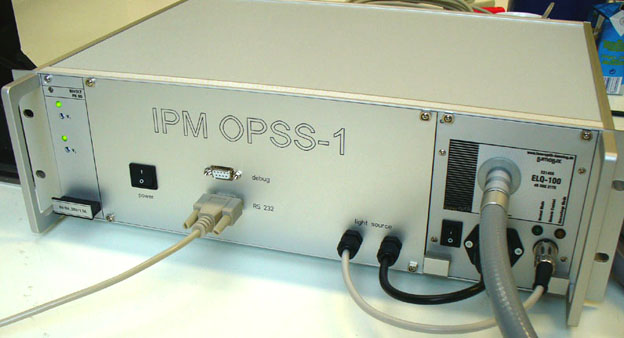 ---
---
Print inspection – tipping paper – quad bobbins
Patent applied in Germany and P.R. of China
Conditions
tipping paper web speed max. 480 m/min = 8.000 mm/sec.
printed register field across web : X max. 64 mm
printed register field down web

: Y = 25 mm
OPSS-1-B scanner speed – e.g. A = 200 mm/sec
camera scanner speed

– e.g. B = 600 mm/sec.
position accuracy of OPSS-1-B scanner : +/- 50 µm with ASM sensor
OPSS-1-B scanning stroke approx. 300 mm
local resolution at printed field = 100 µm
suggested pixel sensor (double pixel calculation)
X = 2*(64 mm/0.1mm) = 1280 pixel
Y = 2*(25 mm/0.1mm) =

640 pixel
Results
maximal capture rate : cap = speed/Y-field = 8.000mm/sec/25mm = 325 capture/sec.
inspect with step 1 bobbin A : (Δt0 --- t1)*cap = 0.32s*325capt/sec. = 104 captures while web running
inspect with step 2 bobbin C : (Δt3 --- t2)*cap = 0.32s*325capt/sec. = 104 captures while web running
inspect with step 3 bobbin D : (Δt3 --- t4)*cap = 0.32s*325capt/sec. = 104 captures while web running
inspect with step 4 bobbin B : (Δt1 --- t2)*cap = 0.32s*325capt/sec. = 104 captures while web running
(Δt0 --- t1) = (Δt1 --- t2) = (Δt2 --- t3) = (Δt3 --- t4)
full scan OPSS-1-B : 2*(∑t1, t2, t3, t4) = 1280*2= 2560ms = 2.56 sec.
by (2.56 sec.*8 m/sec) 20.5 meters printed tipping paper by full scan
∑ captures : (step1+step2+step3+step4) = 4*104 captures = 404 captures
Continuous inspect length by bobbin A, B, C, D: speed*inspecting = 8.000mm/sec*0.32sec = 2.6 meter
Continuous inspect printing length of each bobbin strip : 2.6 meters with 104 captures
each of 25 mm single printed fields by 8 m/sec. speed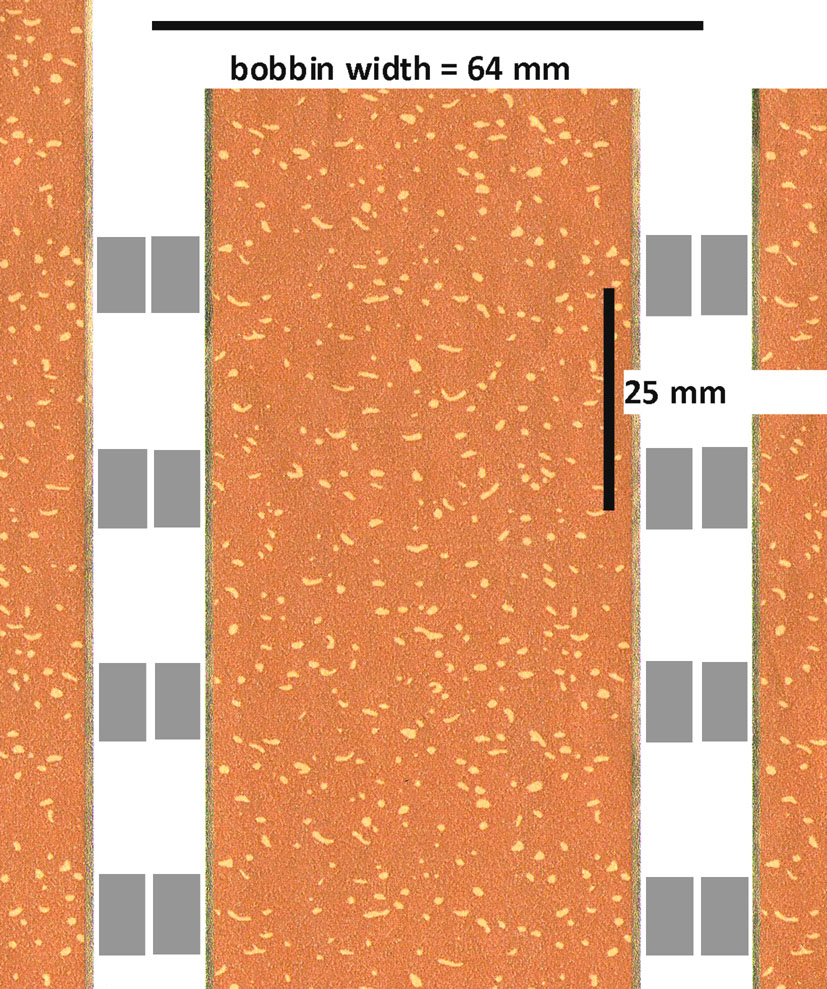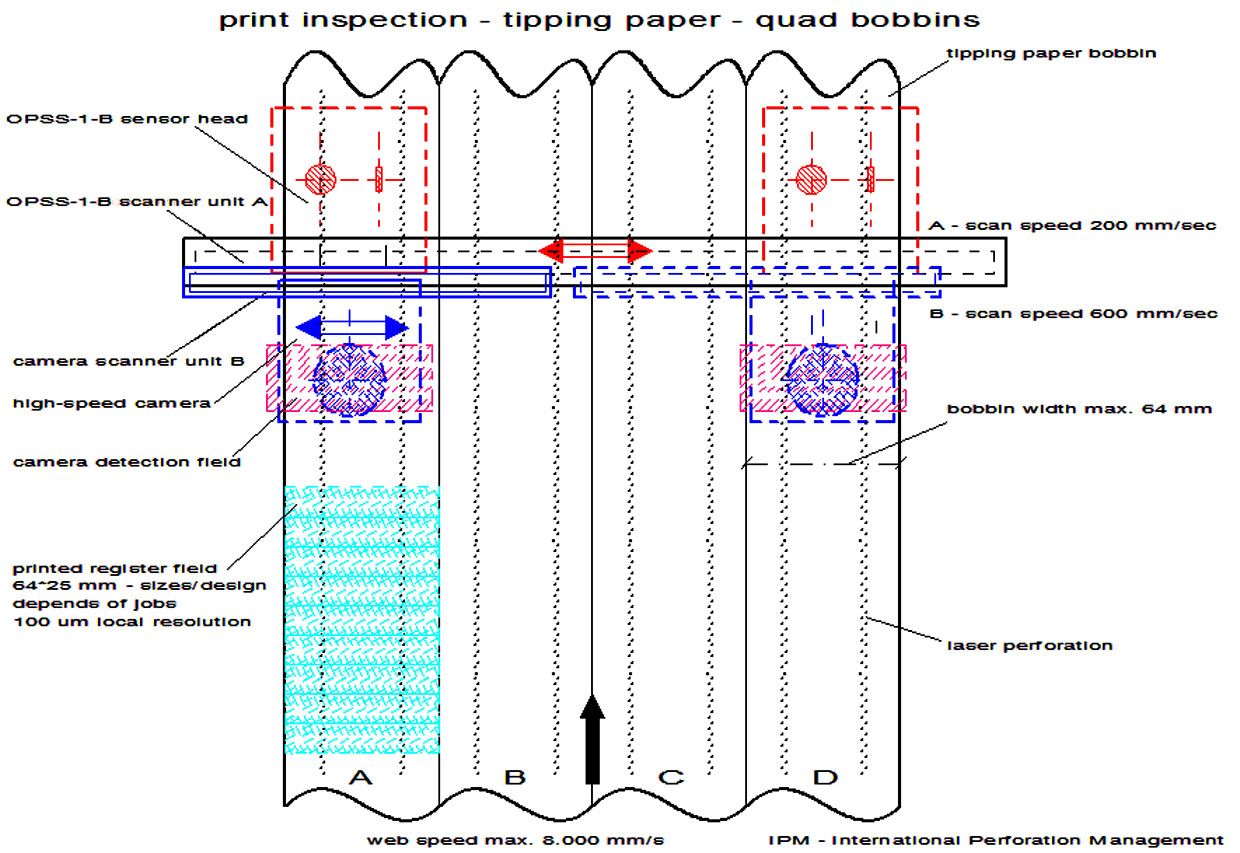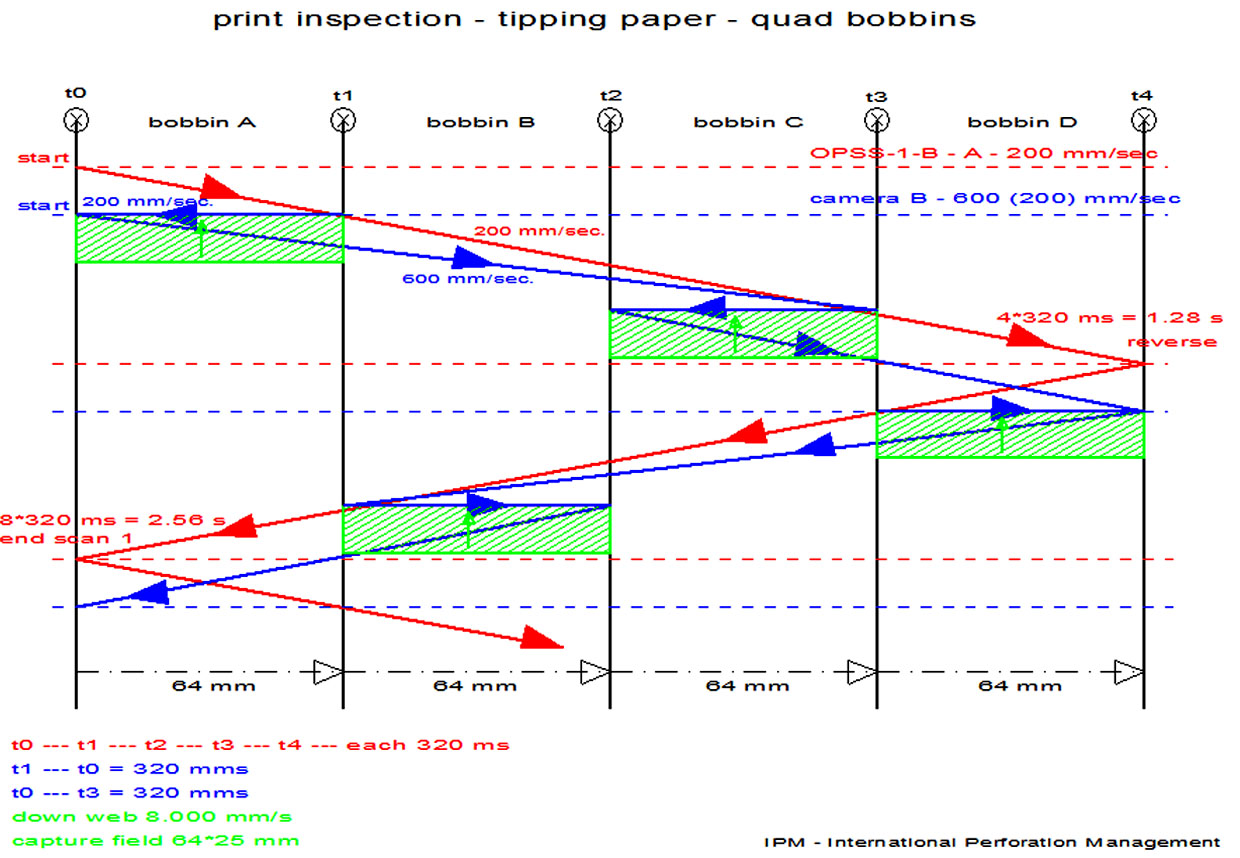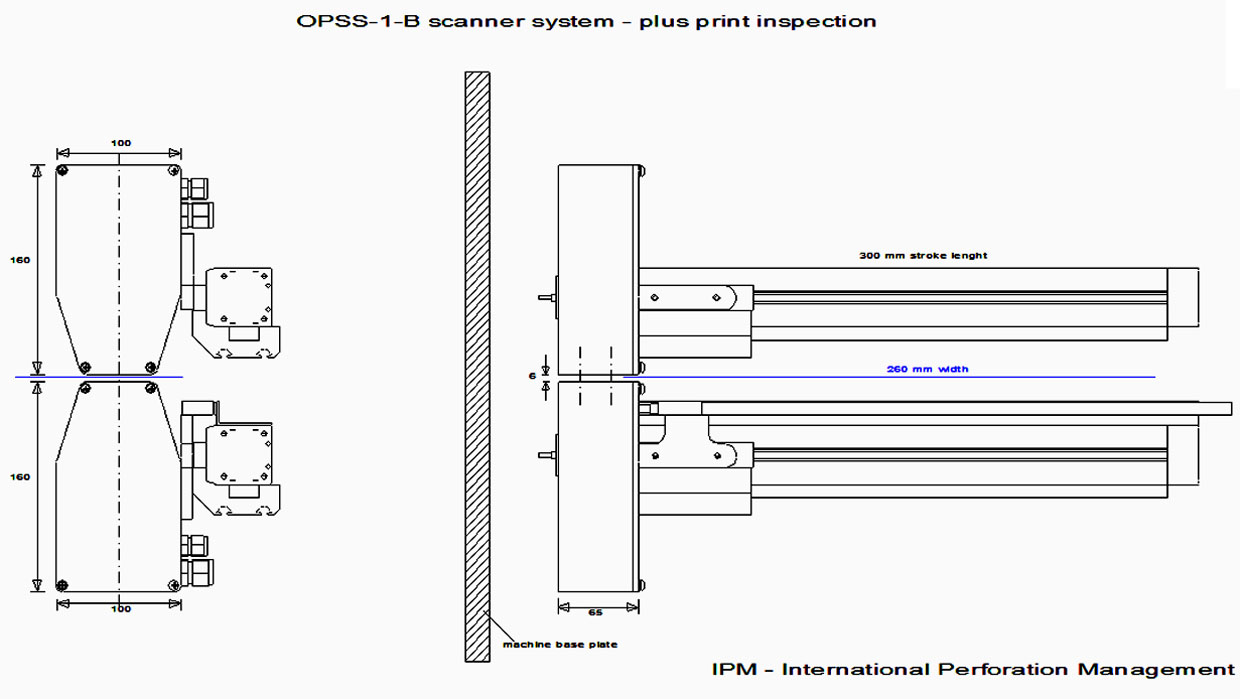 ---
High-tech Engineering - IPM International Perforation Management
IPM se fundó a principios del año 2002 para ser una industria proveedora, de acondicionamiento y de papel fino con innovaciones, en especial con máquinas de nano- y micro- perforación electroestática ESP, láser y sistemas de control óptico online punteros en los sectores del mercado mundial del tabaco. IPM es una empresa de ingeniería de alta tecnología que, con un equipo de técnicos e ingenieros especializados, desarrolla máquinas de perforación y técnicas porosimétricas ópticas online para hojas continuas en Alemania, China y Tailandia, donde las fabrica con socios autorizados que aportan soluciones, las vende a escala mundial y las transfiere a los clientes potenciales como proyectos llave en mano. La formación, instrucción y la transferencia de tecnología necesaria para el personal técnico y de producción son un elemento esencial del volumen de suministro y de la cooperación.
Werner Grosse, fundador de IPM es, desde 1979, ingeniero de aplicación y desarrollo y director del departamento de aplicación internacional de técnica porosimétrica óptica y perforación electroestática en la industria de acabado del papel y de tabaco. En el marco de esta actividad y gracias a numerosos contratos de estudio, creó más de 34 ingenios y patentes, muchos de ellos reconocidos y registrados con patente nacional e internacional. Gracias a ello, y unido a las características especiales del producto para hojas continuas con perforación de alta precisión, se desarrollan y comercializan a escala mundial nuevos procedimientos de acabado, tecnologías de perforación, sistemas métricos ópticos online y máquinas de producción.
En 1991 comenzó a trabajar por cuenta propia, lo que dio lugar a la creación Micro Perforation Engineering GmbH en el año 1993. Con ello se relaciona la expansión en el mercado internacional de la técnica de perforación electroestática ESP hacia otros campos de aplicación - papeles filtrantes, de saco, de bolsa, non-woven, tela no tejida spunbonded, telas, papeles revestidos y papeles Kraft - para la industria de acabado del papel, de elaboración y especialmente de embalaje. MPE GmbH pertenece desde 1994 a grupos de proveedores internacionales de la industria del tabaco. Tras muchos años como socio y gerente, Grosse abandonó la empresa a finales de 2001 para desarrollar nuevas líneas de innovación con IPM (Internacional Perforation Management) y, en estrecha colaboración con nuevos clientes relativamente importantes, implantar en todo el mundo las técnicas de producción.
Además de su actividad y compromiso como innovador, ingeniero y empresario, es miembro de instituciones nacionales e internacionales que persiguen objetivos de innovación, de ingenio, de derecho de propiedad internacional y federal y que practican un intercambio de información técnica y económica a escala internacional.
A éstas pertenecen entre otras DABEI S.A. (Deutsche Aktionsgemeinschaft Bildung, Erfindung und Innovation) y Deutsch-Chinesische Wirtschaftsvereinigung DCW (Agrupación comercial germano-china).
En el sector de la técnica de la micro- macro perforación, de la técnica porosimétrica óptica online y como miembro de diferentes instituciones ha publicado un sin número de artículos especializados y conferencias en alemán, inglés, español, francés, italiano y chino.
En las webs http://www.microperforation.com/engpublication.htm y http://www.microperforation.com/germanpublication.htm existe una relación de sus publicaciones, invenciones y patentes con títulos y fuentes. Desde 01-2002, las publicaciones y patentes aparecen publicadas en http://www.microperforation.com/germannews.html.
Grosse recibió del Gobierno de Yunnan el 19-10-2004 la distinción Caiyun para galardonarle con el título de "Experto extranjero en tecnología" por las tecnologías de innovación, transferencia de know-how, técnicas de producción y exitosa colaboración en el sector de la perforación láser electroestática y sistemas de proceso de porosidad ópticos online en colaboración con el grupo Hongta de China.
China Yunnan Government http://bfe.yxrs.gov.cn/article.asp?id=2005092011030968
Tobacco China http://www.tobaccochina.com/news/data/20038/c815083548.htm
http://tobaccoreportermagazine.com/china/2004/Dec04China/Industry%20Briefs%201204.htm
A finales de 2005, se cerró la empresa situada en Alemania, de manera que IPM (International Perforation Management) actúa desde Asia para la industria internacional de tabaco, cigarrillos, papel y embalaje.
micro perforation of running webs : Flexo Gravure Asia 1-2008 http://www.flexo.de/download/fga/1-2008/Inhalt_FGA_1_2008.pdf
---
For more information - please visit our websites
---